The Scouting Report: at Golden State Warriors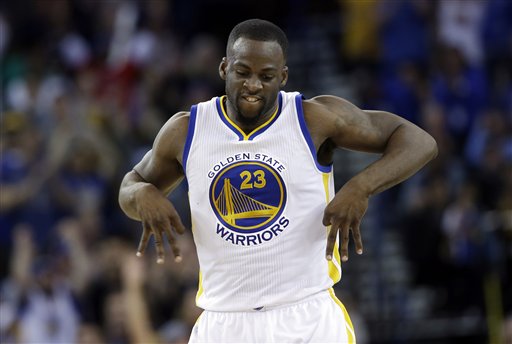 Projected starting line-up: Stephen Curry, Klay Thompson, Harrison Barnes, Draymond Green, Andrew Bogut
Injuries: Andre Iguodala (ankle) out, Festus Ezeli (knee) doubtful
The Golden State Warriors are 68-8. Pretty good, right? Well, perhaps not if you ask head coach Steve Kerr. Kerr told reporters in Oakland Saturday that he thinks the toll of the chase for a record-breaking 73-win season has taken a toll on the Warriors, distracting them from the process of getting better and taking the focus to setting records. That realization was made after Friday's thrilling loss at the hands of the Boston Celtics, their first home loss in 54 regular season games.
Now that the pressure is off the Warriors to remain undefeated at home, the hope is likely that they will be able to focus on the task at hand against the Blazers.
However, no Andre Iguodala in the line-up will make things harder for the Warriors, even if the focus is there. Iguodala has not played a game since these two teams met in Oakland back on March 11 when Damian Lillard dove for a loose ball, rolling up Iguodala in the process. Without Iguodala, the Warriors are unable to play their "line-up of death" and can only run the "death line-up lite," with Brandon Rush at small forward in place of Iguodala.
Although one would think that one of the greatest teams of all time coming off their first home loss would be a disastrous scenario for the Blazers, the Warriors are a little vulnerable right now. Sure, the Blazers played Sunday, but the Warriors have been playing with the a target on their back all season and the pressure of chasing the 1995-96 Chicago Bulls who went 72-10.
Additionally, this game is going to be different because of the personnel the Blazers are using with more regularity. Moving Moe Harkless into the starting line-up and moving Al-Farouq Aminu to power forward nearly full time has been a revelation. Among line-ups that have played 200 minutes or more, a threshold they crossed after the Miami game, the Blazers current starting line-up with Aminu, Harkless, Damian Lillard, CJ McCollum and Mason Plumlee has the best net-rating of any five-man unit in the NBA by nearly two points per 100 possessions per NBA.com/stats.
That line-up also plays at a considerably faster pace than the Blazers played at most of the season. Harkless was a factor in the Blazers' home win over the Warriors and will have to be a factor again if the Blazers are to pull the upset and hurt the Warriors chances at history.
The Warriors are one of the greatest teams of all-time and will likely roll to a win Sunday. But the Blazers have something a little different in store for the Warriors this time around. It should be an entertaining game with a potential 5-seed at stake for the Blazers and much, much more on the line for the Warriors.