The Scouting Report: Miami Heat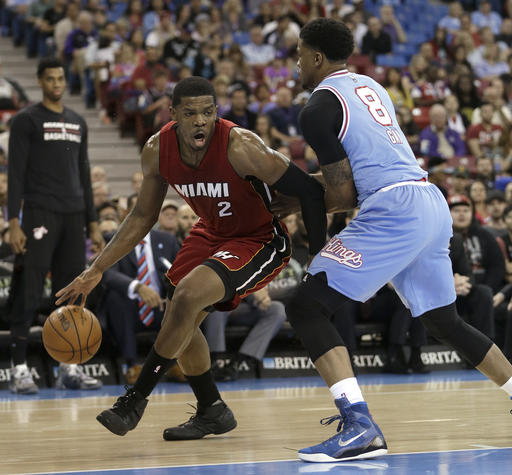 Projected starting line-up: Goran Dragic, Gerald Green, Luol Deng, Joe Johnson, Amar'e Stoudemire
Injuries: Dwyane Wade missed Friday's game against Sacramento with back and neck injuries after a fall and sounds doubtful to play against Portland, according to Ira Winderman of the South Florida Sun Sentinel. Chris Bosh (reoccurrence of blood clots) has "resumed basketball activities," but is out. Tyler Johnson (shoulder surgery) is also out.
The Miami Heat have been one of the league's best teams since the All-Star break and have been even better since signing Joe Johnson after he was waived by the Brooklyn Nets after the trade deadline. Since the break they've had the 5th best net-rating in the NBA and Johnson has been a boon to their offense, which was previously the thing that was holding them back.
In the first couple of games after the All-Star break they had back-to-back wins as part of a 3-game win streak in which Goran Dragic played some of his best basketball of the season. It was a spark that they needed to revive their season which was on bordering on mediocrity thanks to the lack of progress from Hassan Whiteside, an aging Wade, and the continued health problems for Bosh.
But the signing of Johnson, who turned down LeBron James and the Cavaliers among other suitors, had almost as much to do with their offensive change. Playing Johnson, whose shooting 44 percent from the field while most playing power forward has brought life into the cramped Heat offense. For much of the season their one weakness was shooting, but Johnson has helped solve that. They also found another diamond in the rough.
People know about Whiteside and his knack for blocking shots, scaring ball-handlers, etc. But the diamond in the rough that few know about is rookie Josh Richardson, who has been a coup for the Heat as a second round pick. Richardson is firmly in the rotation ahead of veterans like Josh McRoberts and Gerald Green, who started in the place of Wade Friday.
Richardson is athletic, can shoot the 3 and do enough off the dribble to be dangerous. And of course, Justise Winslow is already an excellent defender but still raw as an offensive player.
And while I did mention Whiteside, he's reached another level in the past few weeks. He snatched a lob pass the other night against the Pelicans like a baseball. Sure it's the Pelicans, but still. Whiteside is creating
It's likely that the Heat won't have their Hall of Fame shooting guard and they're already without their lone All-Star this season. But they will still be a handful for the Blazers. Like Thursday's game between the Blazers and Celtics, both teams will need it. The Blazers will have the advantage of a night's rest and a deeper team, but the Heat have found a formula that has them sprinting down the stretch.