The Scouting Report: Boston Celtics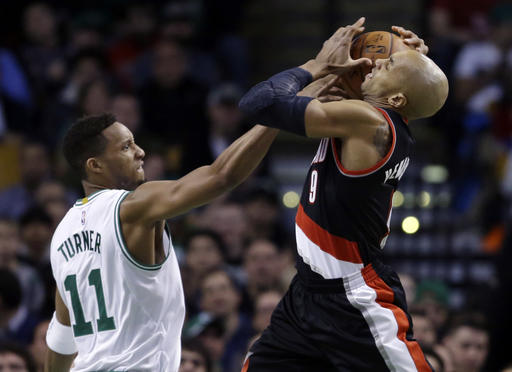 Projected starting line-up: Isaiah Thomas, Avery Bradley, Jae Crowder, Jared Sullinger, Amir Johnson
The Boston Celtics are a really good team, though they've struggled a little as of late. But those recent struggles can be attributed to the injury of starting small forward and sometimes power forward Jae Crowder, who is expected to try and play tonight against the Blazers. Although the Blazers got some help in the standings last night, there's no extra margin for error against the Celtics tonight.
Boston whooped the Blazers back on March 2 in Boston, 116-93. The Celtics had a 14-5 turnover advantage and blew the Blazers out of the water after the first few minutes. The offense was flowing for the Blazers early with Damian Lillard in the midst of his highest-scoring stretch of the season but got shut down as the physicality of the Celtics appeared to bother them.
The pressure from starting shooting guard Avery Bradley, as well as reserve guards Marcus Smart and Evan Turner, never stops. The Blazers knew this but they were also playing the Celtics on the second night of a back-to-back. Perhaps a little more screening action between the guards can help get things moving, but the Celtics defense is excellent at recovery and team help. The Blazers may not need their A-game to win tonight since they're at home, but their game needs to be better than it was on March 2.
Improved offensive execution and fewer turnovers should cut down on Boston's transition opportunities, which killed the Blazers defensively.
Isaiah Thomas was a menace off the dribble and neither of Portland's guards had success staying in front of him on his way to 30 points. With he and fellow Tacoma native Avery Bradley playing close to home for the only time this season, they'll have a little extra motivation to play well Thursday.
But judging by recent changes to the starting line-up, the Blazers should be in a better position to win this one. The Blazers current starting line-up with Moe Harkless at small forward and Al-Farouq Aminu at power forward is Portland's best line-up and it's not even really close. So far this season they are outscoring opponents by 19.1 points per 100 possessions per NBA.com.
This should be a good game as both teams are the midst of battles for playoff seeding with several other teams. The Blazers are now only two games behind Memphis for 5th place in the Western Conference, which would draw them the most winnable match-up of the top-4 West teams, the Clippers. The Celtics are in a three-way tie with Miami and Charlotte for 4th place and currently have the tiebreaker. However, a loss Thursday would drop the C's back down to 6th with seven games left.