Kings to rest DeMarcus Cousins, Rudy Gay, Rajon Rondo vs. Blazers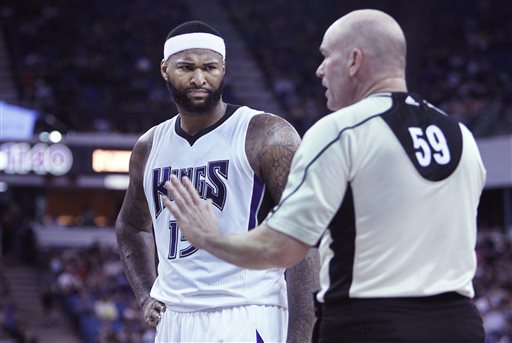 After a blowout victory Sunday over the Dallas Mavericks, the Sacramento Kings will rest three starters including All-Star big man DeMarcus Cousins in Monday's game against the Portland Trail Blazers at the Moda Center, according to a release. Starting small forward Rudy Gay and starting point guard Rajon Rondo are out to rest as well while Marco Bellineli is out due to a sore foot.
The Kings defeated the Dallas Mavericks 133-111 Sunday afternoon and none of their starters played more than 30 minutes. Although they are not in a playoff race and don't have to games to play for beyond this, it appears they are valuing the long-term health of their players. Cousins has apparently been playing tendonitis in his feet all season long.
It's unclear who will start for the Kings against the Blazers. But it's likely a big relief they don't have to worry about who will have to guard Cousins now that Meyers Leonard is out for the rest of the season.
The Blazers nearly lost to Philadelphia on Saturday, needing a brilliant escape from CJ McCollum to win. That experience is probably the best one to have fresh in their mind playing against the understudy cast of "Love & Hip-Hop: Sacramento."
The Blazers have won the first two meetings against Sacramento. The teams will play once more in Sacramento April 5.