The Scouting Report: Sacramento Kings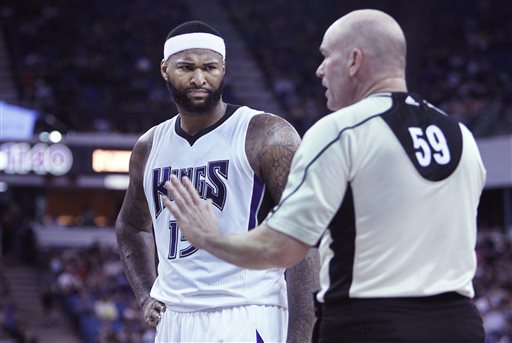 Projected starting line-up: Rajon Rondo, Seth Curry, Rudy Gay, Quincy Acy, DeMarcus Cousins
Injuries: Marco Bellineli (foot)
The season went south fast for the Sacramento Kings. There was a brief moment in time, maybe about a month, where they looked like they had a chance to be a playoff team. But then teams like the Blazers, Jazz and Rockets managed to figure it out while the Kings were stuck in their top-down malaise. George Karl almost got fired, then didn't, had an assistant get fired and would probably be fired if it weren't for the fact the team would be on the hook to pay him.
"Love & Hip-Hop: Sacramento" storylines aside, they did score an impressive 22-point victory over a weary Mavericks team. Of course, no defense was played and they scored 133 points in the win. They made a change to their starting line-up a few games ago, sliding Seth Curry into the line-up at shooting guard in place of Ben McLemore who has struggled to be a productive player during his Kings tenure.
Curry was lauded by George Karl as the team's best defender earlier in the season when he wasn't playing and while that's not quite the accomplishment it sounds like, he will probably have the task of guarding Lillard. That means Rondo will probably cover CJ McCollum. Both project to be major advantages for the Blazers.
The Blazers exploited the Kings fatigue after a double overtime game when these teams last met Jan. 26. The Blazers attacked the basket, got out in transition and the Kings got tired after halftime. Their plan of attack may not be as simple this time as the Kings were able to rest their starters in the 4th quarter and hold everybody on the team under 30 minutes.
Without Meyers Leonard, guarding DeMarcus Cousins becomes a much tougher task. Leonard was a key player in both meetings and even caused Cousins to cock back his fist in anger. His shooting threat forced him to guard out to the 3-point line and his size wasn't easy to move on the block. Statistically he's been much better defending post-ups than Mason Plumlee and though Ed Davis has decent stats on the block, it's a tough ask for him to guard Cousins.
The Blazers are going to have to find a way to win without their best defense against Cousins.