The Scouting Report: Dallas Mavericks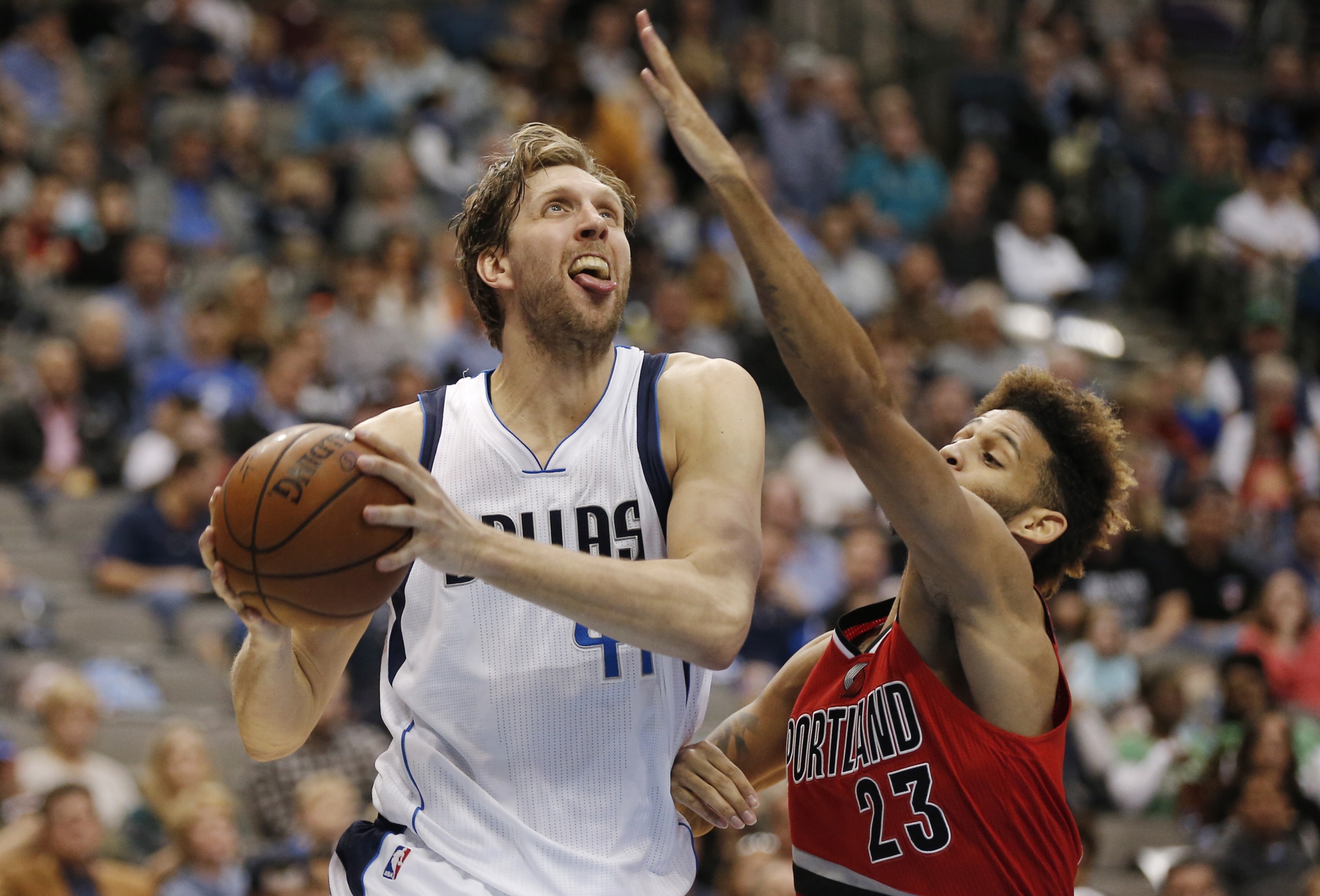 Projected starting line-up: Deron Williams, Raymond Felton, Wesley Matthews, Dirk Nowitzki, Salah Mejri
Injuries: Chandler Parsons (knee surgery) out for the season
You probably don't need to read a whole lot of of this if you caught Dallas' Sunday afternoon 132-120 overtime win over the Blazers. Even the news that broke Monday about Chandler Parsons likely having season-ending knee surgery will have very little impact when it comes to breaking down how these teams match-up since Parsons was also out on Sunday.
The Mavericks did go back to a traditional line-up on Sunday, starting Zaza Pachulia and having a more defensive-minded big man alongside Nowitzki. But Pachulia didn't last very long as Salah Mejri had roaring success against the Blazers when he came into the game in the 2nd quarter and got the call to start the second half. Mejri played down the stretch and 32 minutes in total, by far the most he's played all season. Coming into Sunday, Mejri had received a DNP in four out of five games.
Mejri was disruptive around the basket and gobbled up 14 rebounds during his time on the court. It was an especially good counter from Mavs head coach Rick Carlisle to make the Blazers pay for playing a small line-up. The Blazers can't afford to go away from that small line-up with Meyers Leonard out for who knows how long. Small ball with Aminu or Harkless at power forward has been pretty solid all year. If the Blazers don't want to test the Mavericks again, they can go with Chris Kaman for stretches. However, if they just do a little bit better as a team boxing out Mejri and just play better overall, they should have success against the Mavs bench.
The Blazers also need to do a better job in pick and rolls with Nowitzki, a task much easier said than done. The Blazers threw all kinds of pick and roll looks at him, switching, showing high and switching back, doubling him from the weakside. You name it, the Blazers did it but Dirk was fantastic. The Blazers can execute better and most of Tuesday's practice was focused on what they can do against the Mavericks to not allow Nowitzki and Williams go off again for big games.
They were pretty mum in terms of what they would do against the Mavericks. The Mavericks ran 40-plus pick and rolls according to the Blazers and they hope it's an action they're going to be more ready for.
"Dirk had an exceptional game, Deron Williams had an exceptional game," Gerald Henderson said after Tuesday's practice. "Obviously they ran a lot of pick and rolls with those two players. A lot of them we played well, a lot of them not so much. They ran 40-50 pick and rolls with Dirk. It's about coming up with something, communicating and getting it done on the court."