Blazers recall Cliff Alexander and Luis Montero from D-League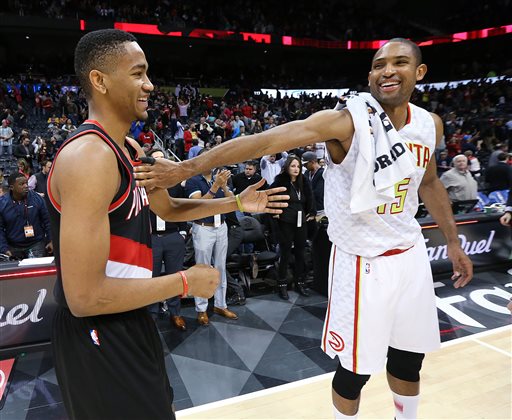 The Portland Trail Blazers recalled rookies Cliff Alexander and Luis Montero Sunday after a four-game stint in the NBA Development League with the Santa Cruz Warriors. The Blazers came home after Sunday's loss to the Mavericks and they will be getting the two youngsters with them after a brief stint in the D-League where they got loose after being inactive for much of the season.
The Warriors went 1-3 in the four games they had Alexander and Montero, who both logged big minutes for Golden State's D-League affiliate.
Alexander started all four games and logged 27 minutes per contest while averaging 15 points and 7.25 rebounds. He had a rebound-rate of 14.4 and a true-shooting percentage of 55.4% thanks to solid numbers from the field and a passable 71.4% from the free-throw line. I talked to my buddy Kevin Danna, the Warriors D-League broadcaster who saw him play and he said that Alexander "looked more comfortable shooting from the midrange than going to the block but he did have success scoring over his left shoulder."
Here are highlights of Alexander in their last game against the Oklahoma City Blue.
[youtube http://www.youtube.com/watch?v=D-Yco0NRjXU]
Montero started as well, averaging 28 minutes per game and scoring 16.5 points per game. He had a true-shooting percentage of 53.2% and shot 38.5% from long-range. He made plays, handing out 3.75 assists per game but had almost as many mistakes, averaging three turnovers per game. His shooting was encouraging and his playmaking could either be brilliant or head-scratching. But perhaps most encouraging was that he rebounded well, posting a rebound rate of 11.38% and appeared to use his size well on the defensive end. Danna described Montero's play as floating between two extremes, but when he did hit his stride, he was "taking over games." According to Danna, "when Montero was rolling he was ROLLING."
You can see some of that in the highlights from the same game. He and Alexander had on-court chemistry together, which should be expected after having played together for most of the season.
[youtube http://www.youtube.com/watch?v=R9Xo1C4l8P4]
Alexander and Montero, who both joined the Blazers on non-guaranteed contracts but survived the trade deadline, have each played in seven games for the Blazers so far this season.
Follow Kevin on twitter @kevo408.