The Scouting Report: at Dallas Mavericks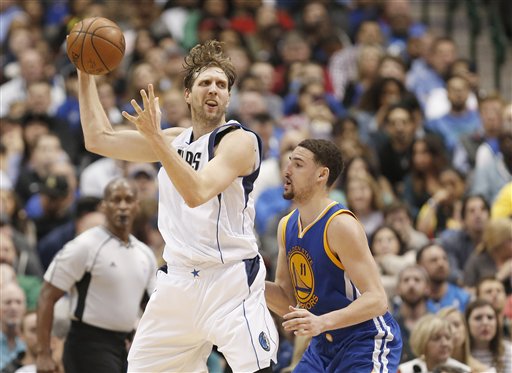 Projected starting line-up: Deron Williams, Raymond Felton, Wesley Matthews, Dirk Nowitzki, Zaza Pachulia
Injuries: Chandler Parsons (hamstring) doubtful
The way the Dallas Mavericks' season has played out should have been predictable despite their solid start. In many ways, their hot start and steady decline as the season has gone on is what we should have expected from a team with star players who are either past their primes or coming off major injuries.
37-year old Dirk Nowitzki is still their best player, which isn't exactly good news. Nowtizki has been his normal efficient self, able to exploit mismatches on a nightly basis. He's been fantastic nearly every night down the stretch but the disappointing part has been his supporting cast. Although Nowtizki consistently turns back the hands of time and has been playing more center than before, the Mavericks are still barely holding on to the final playoff spot in the West.
The match-up in November can provide some information but it would be hard to compare. Zaza Pachulia, a major part of the Mavericks at that time, has seen his minutes go way down over the last month. But the fact that Portland starts two big men who aren't good shooters or threats to create their own offense, the Mavericks may be able to get away with more Zaza-Dirk minutes.
Wesley Matthews suffered a scary fall in Friday's game against the Warriors but shook it off and returned to the game. Matthews' toughness is never in question but one thing that you could always count on from Matthews over the past several seasons was his ability to knock down open shots. Coincidentally or not, his shooting accuracy has disappeared since returning from his achilles. He is shooting a career-low 38 percent from the field overall and has seen his 3-point percentage dip below 34 percent.
The Mavericks have finished games with all types of combinations. Former Blazer Raymond Felton, also in a contract year, has frequently found himself in at the end of games. Devin Harris will probably get the call to pester Lillard, which he can still do.
Even with the genius of Rick Carlisle and the greatness of Nowtizki in his career's winter, the Mavericks are barely holding on. But the Mavericks have given the Blazers plenty of trouble over the years and with each coach knowing the ins and outs of the other, it will probably be a good one.
This is the first of back-to-back meetings between these two teams with the next one coming Wednesday in Portland. The Blazers have a 1.5 game lead over the Mavericks for the 6th seed in the West. A win for the Mavericks would get them within a half game of the Blazers and seal the tiebreaker, having guaranteed a win of the 3-game season series.