The Scouting Report: at San Antonio Spurs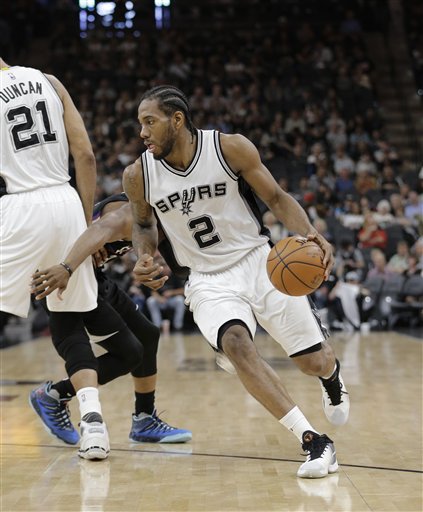 Projected starting line-up: Tony Parker, Danny Green, Kawhi Leonard, LaMarcus Aldridge, Tim Duncan
Injuries: Jonathan Simmons (illness) questionable
New arrivals: Andre Miller and Kevin Martin both signed with the Spurs after being bought out by the Timberwolves. To make room for them, the Spurs waived Ray McCallum and Rasual Butler.
The Spurs are the Spurs again and, they're arguably as strong of a team as they've ever been. At 57-10, including an undefeated 33-0 home record, the Spurs are nipping at the heels of the Golden State Warriors who are now 12 wins away from having the NBA-record for wins in a season. The way the Spurs have played this season has made a historic season a requirement for home court throughout the playoffs.
While the Warriors have their arsenal of shooters and a pretty solid defense, the Spurs are doing their dominance a different way. So far this season their defense is the best in the NBA by three points per 100 possessions. The Spurs held the Blazers to their second-lowest scoring total, holding them to 80 points when Portland visited them on Nov. 16.
NBA defense is not a one-man job, but Kawhi Leonard comes pretty close to making that happen. The Spurs have the league's best defense in part because all of their players are veterans who know where to be and how to move with each other. But Leonard is a one-man wrecking crew when guys get matched-up on him. His big mitts are a tool that can snatch the ball from any ball-handler and he can play against players of all sizes with success.
But what has set Leonard apart this season has been his offense. Leonard was Finals MVP two seasons ago and as the playoffs wore on, it was clear that the Spurs needed him to be great in order to win. After a tough finish to last year's playoffs at the hands of the Clippers, Leonard has been better than ever. So far this season he's averaging a career-high 21 points per game, just under seven rebounds and 2.5 assists while shooting 46 (!) percent on 3-pointers.
The Spurs would be nowhere were it not for their biggest acquisition in the summer. LaMarcus Aldridge caught endless grief from twitter after their loss to Golden State (in which everybody on their team, including Leonard looked terrible) and later deactivated his twitter account, which only accelerated his transformation into a Spur. Since that 2-for-9 night in Oakland, Aldridge has been a downright monster, averaging 21.6 points and eight rebounds on nearly 55 percent shooting from the field in 32 minutes per game. Aldridge's minutes have also seen a significant drop this season from his last few seasons in Portland, averaging 30 minutes per game from 35 or more in ever season since 2008-09.
The way Aldridge has been getting his buckets has also been a change from his Blazers days. After years of seeing shots at the rim slowly fade away from his game in both volume and efficiency, he's attacking the rim and finishing there as good as he ever has. He's making a career-best 74 percent of his shots within three feet according to Basketball-Reference and he's taking more shots in that area than he has since the 2011-12 season. And rarely does he pound the ball at the midrange for too long. The Spurs have taken some of the junk out his game and turned him into the efficient monster he always could be.
Without Meyers Leonard to force the Spurs big men out to the 3-point line, this game is going to be tougher than tough for Portland. Going super small and trying to get the pace and speed of the game in favor of the younger Blazers may be their only hope of hanging with them. We'll see more smallball from the Blazers tonight without Leonard and it will be interesting to see how long Stotts will wait to go to that against the Spurs, who have every advantage in the front court.