Reports: Meyers Leonard (left shoulder) out for at least three games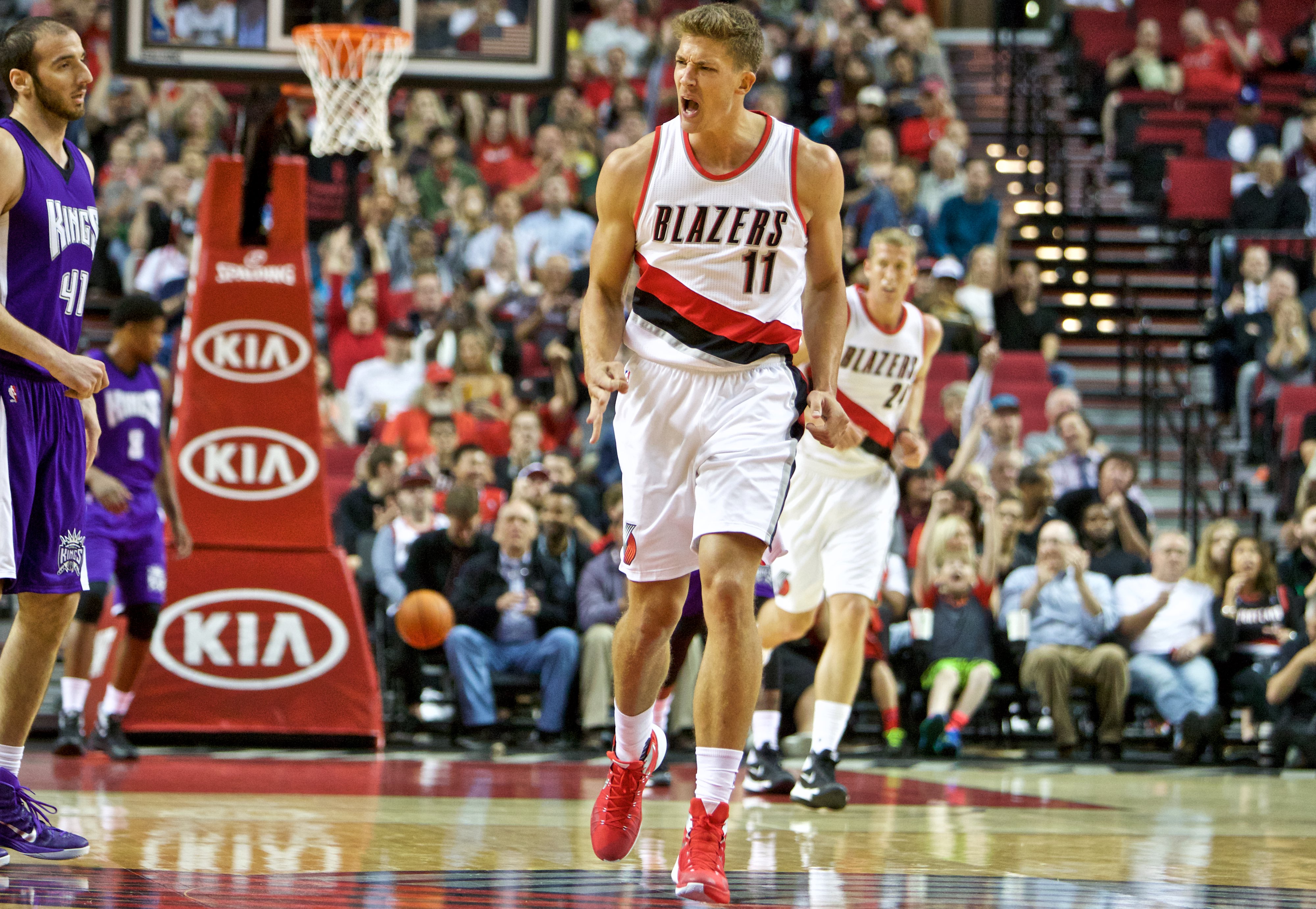 With a month to go before the playoffs, the uncertainty of Meyers Leonard's status moving forward has added another layer to Portland's playoff push. The Trail Blazers announced Wednesday that they would be without sweet-shooting big man for Thursday's game against the San Antonio Spurs after he dislocated his left shoulder. Thursday, more information emerged regarding how the injury happened and how long Leonard will be out, which includes the remainder of their road trip.
Leonard told Casey Holdahl of TrailBlazers.com how it happened.
"We were just doing five-on-five yesterday, working on switching guards to bigs pick and roll similar to something we might see with LaMarcus (Aldridge) or something like that tonight during the game," explained Leonard. "Went to take a shot and Gerald (Henderson) tried to slap the ball away, just unfortunately hit me the wrong way and my arm. Same thing (as the last time he dislocated his shoulder) pinned down and in and it just came out."
Leonard also told reporters that the team is waiting a few days for the swelling to go down in his shoulder before getting an MRI which would reveal the extent of the damage. So, three games is just the start of Leonard absence. He missed seven games after dislocating the same shoulder earlier in the season.
As we stated on Wednesday, this injury is coming at a bad time. Not only was Leonard playing well before dislocating his shoulder for the second time this season, as of late other frontcourt players have struggled. And as the team fights to stay in the playoffs, they will be without one of their best offensive weapons. Not to mention that he and Ed Davis have probably been the best big man combination, aside from the times that the Blazers go small.
This injury will force the Blazers into more small ball line-ups. The starting line-up with Noah Vonleh and Mason Plumlee posted solid numbers for most of the year but have struggled since the All-Star break, posting a net-rating of -6.1. We should see a lot more small ball starting tonight and a lot more Moe Harkless in second units, although when the playoffs come, I think starting him is their best option. But Leonard being healthy would be a major key to any postseason success they will have.
Health has been relatively good for the Blazers this year. Having Leonard back would be huge for the playoffs and give the Blazers the depth that has gotten them to this point.
Here's the first time that Leonard dislocated his shoulder back in November.
[youtube http://www.youtube.com/watch?v=b0j-2lzdLQY]