Blazers C Meyers Leonard (dislocated left shoulder) out Thursday vs. San Antonio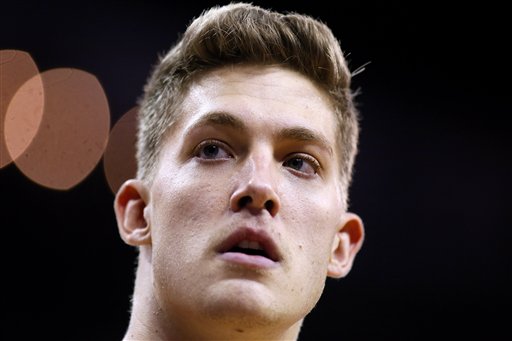 Portland Trail Blazers big man Meyers Leonard will miss Thursday's game against the San Antonio Spurs due to a dislocated left shoulder, the team announced on Wednesday. Leonard had injured the shoulder earlier in the season, coincidently, against the Spurs.
It happened when he was jockeying for position on a rebound with cousin Kawhi Leonard.
[youtube http://www.youtube.com/watch?v=b0j-2lzdLQY]
Shortly after that, Leonard would miss seven games and return to find his starting spot taken by Noah Vonleh. Vonleh's play has been shakier since returning from his own injury just before the All-Star break and the injury to Leonard has come at a bad time because he's been playing well. Over the last 15 games, Leonard is shooting 50 percent on 3-pointers, even if his minutes have been inconsistent.
It's unclear right now how the most recent injury occurred, but Leonard has missed several games this season because of this same injury. The Blazers practiced in San Antonio today but word of the injury came out after the team had spoken with reporters. With the Jazz 2.5 games behind them and being neck-and-neck with the Rockets and Mavericks, the Blazers can ill-afford an extended absence from Leonard.
This will push the Blazers to use more small ball line-ups but it also causes them to lose what may be their best big man combination of Leonard alongside rebounding extraordinaire Ed Davis. I suggested on Dusty and Cam and after the Oklahoma City game that going small more may be the way to go. Unfortunately, this isn't the ideal circumstance to have to try that.
The Blazers have a lot of wing depth that can help them weather the storm by going small more. However, against the Spurs that won't help them much. A tough game just got harder. And without knowing how long Leonard will be out, the path to the playoffs just got a lot more complicated.