Thunder rip apart Blazers 128-94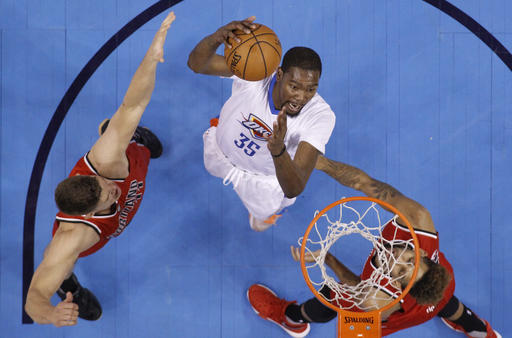 Russell Westbrook had 17 points, 16 assists and 10 rebounds while Kevin Durant pitched in 20 points as the Oklahoma City Thunder cruised to a 128-94 victory over the Portland Trail Blazers. The Blazers dropped the first game of their four game road trip with their lowest single-game field goal percentage of the season at 31.4 percent. Damian Lillard had 21 points on 7-of-15 shooting and CJ McCollum had 15 points on 5-of-17 shooting.
The 34-point loss was their worst in three seasons, coming off a 37-point win over the Orlando Magic. Of course, the Blazers started great. McCollum and the marksmanship of Al-Farouq Aminu. Aminu has come a long way as a shooter and he made the Thunder pay for leaving him wide open on possession after possession. He made two of his first three 3-pointers but that didn't last.
A Noah Vonleh lay-up gave the Blazers a 22-16 lead with 4:46 left but from that point on, it was all Thunder as they outscored the Blazers 50-20 to end the first half. The Blazers didn't have any answers when Billy Donovan unleashed a line-up with Durant at power forward alongside Enes Kanter. The Blazers were sticking with Meyers Leonard and Ed Davis as their bench front court and neither one was a good match-up against Durant. Normally the power forwards Davis guards aren't offensive threats and Monday he had to guard a former MVP.
They didn't have any luck slowing down the Thunder with any line-up, even after Stotts went to Moe Harkless after Durant scored on back-to-back possessions when guarded by Davis and Leonard. Even when Durant went to the bench, things didn't change. That's because Westbrook was dominant and was one rebound short of a triple double at halftime. Durant was excellent in the first half well while Portland's often-dominant duo was quiet after McCollum's hot start. Each had almost identical lines: 3-9 FG and 7 points apiece. Lillard had a few more assists but they were equally as effective in the first half.
Lillard did a little bit more and McCollum did as well but they needed a special second half and just didn't have it after digging way too deep of a hole in the first half with their play.
After yet another blown 4th quarter lead against the Spurs on Saturday night, the Thunder's reputation as chokers in big games was pointed to again after they lost their 12th game this season when leading after three quarters. Westbrook got the brunt of the blame and absolutely destroyed the Blazers backcourt.
Things didn't get better for the Blazers in the 2nd half. They were frustrated and the Thunder's play drove them more in that direction. Lillard was visibly angry with the officials, complaining after several drives and shot attempts where it appeared he was asking for a foul almost every time. That frustration was likely made worse by Westbrook's play and the Blazers inability to do anything offensively.
The Thunder pushed their lead up into the 30's and it didn't matter which line-ups the Blazers threw out there. The most interesting thing that happened in this game was that the net on one of the baskets got loose and they had to stop the game to fix it with some kind of tape. The fact that it was a 30-point game probably made it easier for both teams to make a quick fix and get out of there.
As far as this game, it is an unfortunate lesson that there is no good match-up for this team among the West's top-three teams. Their lone victory came thanks to Lillard scoring 17 points in just over three minutes to win the game. Lillard wasn't great tonight and they'll need him to be just to make it a competitive series against two of the league's best players. The Spurs and Warriors will be worse. And the Grizzlies have probably done enough to avoid being caught for the 5th seed even as they are plagued by the injury bug. Then you'd have to settle for playing against Chris Paul and Blake Griffin.
Monday was more proof that there is not a good match-up on paper for the Blazers and little tweaks like playing Durant at power forward for stretches are a match-up nightmare for everybody in the league, including Portland. They'd probably have to turn to Harkless and Aminu at power forward for extended stretches and although we've seen that have success in limited moments, it will be interesting to see if Stotts sticks with that in a series. All of Portland's bigs have to be ready for their moment but there will be times that playing two traditional big men just can't work. And for as much as Leonard's shooting provides on the offensive end, defensively he still functions as a big man because he's 7-1, 245 lbs.
In addition to the match-up and just making shots, the Blazers started slipping on the little things early. Moe Harkless failing to communicate a switch and leaving Anthony Morrow in transition for an open three or Mason Plumlee trying to trap an OKC player in the backcourt after an empty possession. And when you fail to execute even the simplest things, that's how you make a bad night worse and lose by 34.
Notes
I still think this would be an interesting match-up in the playoffs. They can start Harkless and slide Aminu to power forward where they might be able to create some interesting situations while also giving his slightly improved 3-point shooting more value. Westbrook and Durant will always give Oklahoma City an advantage but the Blazers wing depth is one area where they may be able to push the Thunder. They at least have the tools to try it. Vonleh's minutes, which have been good for development in the regular season and a decent starting line-up, will likely be the casualty. But there are 14 games left and with a young team, you never want to count out any possibilities.
Making matters worse for the Blazers, the Mavericks and Rockets both won tonight which brings their lead for the 6th seed in the West down to a 1/2 game. The Rockets beat the Grizzlies who the Blazers are trailing, but being 4.5 games back with 14 to go is a nigh impossible task.
Gerald Henderson was a team-low -31 and was 2-of-6 from the field. You should still read my feature on him in Monday's Columbian!
When the Thunder play like they did tonight they can beat anybody. But this level of play has been a hard one to find for them all season. Despite all their struggles closing games, I still think they're better than Cleveland.