The Scouting Report: Orlando Magic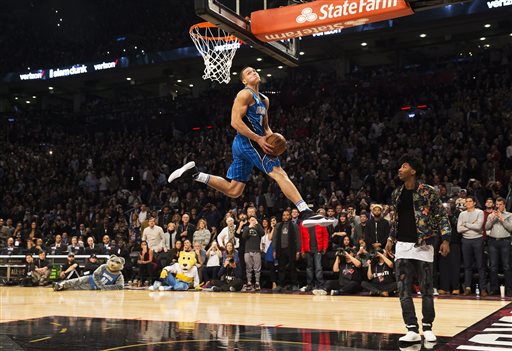 Projected starting line-up: Elfrid Payton, Victor Oladipo, Evan Fournier, Aaron Gordon, Jason Smith
Injuries: Nikola Vucevic
New additions: Brandon Jennings, Ersan Ilyasova
The Orlando Magic may be having the best bad season in the league this year. Sure, they traded Tobias Harris, a talented young player on a contract that will look reasonable after this summer, for expiring contracts and no first round draft pick. And they're going to miss the playoffs for the 4th straight season since trading Dwight Howard. But other than that it's been pretty good!
That's because Aaron Gordon is turning into the evolutionary, left-handed Blake Griffin of sorts. And it's not just because of the dunks. Gordon, like Griffin, is an excellent ball-handler and a pretty good passer, too. He knows where to go with the ball now and is filling every stat category, quickly becoming a must-have in fantasy basketball. His rebounding has improved and while he's not a great 3-point shooter, he's improved a little bit and will put up a couple every game. He will be legitimately deadly if he starts hitting 3-pointers at 35 percent or more for a player who can also sometimes play center.
Their moves at the trade deadline have allowed for Gordon to take over. Harris was traded to Detroit for Brandon Jennings and Ersan Ilyasova, then they traded Channing Frye to the Cavaliers. Of course, the Blazers were involved in that deal, absorbing Anderson Varejao into cap space before releasing him. The Blazers sent a 2nd round pick to Orlando to facilitate the deal.
Gordon will present interesting problems for the Blazers. Evan Fournier is having an excellent season for the Magic and has been a great find. You can't ever leave him open. Elfrid Payton and Victor Oladipo have had up and down seasons but still are early in their development, even if they don't look like they'll be star players.
And to the joy of the internet, Mario Hezonja has finally become a consistent contributor after spending much of the early season on the bench.
While Damian Lillard has had success against everybody, the Magic have been his often given him problems. For whatever reason, Lillard is averaging 14.7 points per game against the Magic, his lowest average against any team in his career.