The Scouting Report: Washington Wizards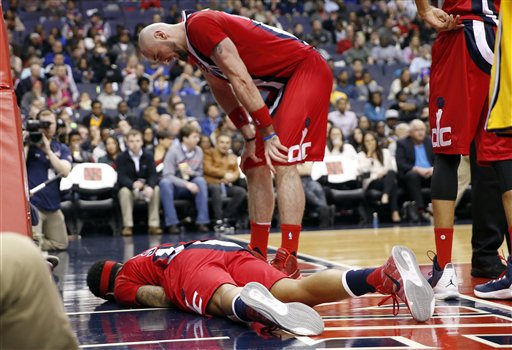 Projected starting line-up: John Wall, Garrett Temple, Otto Porter, Markieff Morris, Marcin Gortat
Injuries: Bradley Beal (pelvic sprain), Gary Neal (leg)
New arrival: Markieff Morris
The Washington Wizards are still within a reasonable distance of the Eastern Conference playoffs but their hopes were dealt a brutal blow when Bradley Beal hit the deck Saturday night. Beal suffered what a pelvic injury on a hard fall and J. Michael of CSNmidatlantic.com reports that the Wizards won't have Beal for the entirety of their 3-game road trip.
This hurts their already slim chances. The Wizards made a significant effort to not let this season go to waste at the trade deadline. They gave up a top-9 protected first rounder in the upcoming draft as well as Kris Humphries and DeJuan Blair.
But the transition with Morris hasn't been a smooth one in the same way that the Tobias Harris addition has worked in Detroit. The Wizards have yet to perform well with Morris on the floor alongside their starters. Their line-ups with Garrett Temple in at two-guard instead of Beal has actually performed better in more minutes. So while the injury to Beal hurts their depth, the line-up they will likely start on Tuesday has been better.
Their bench depth without Beal and Gary Neal is essentially non-existent. Getting Alan Anderson back to health has helped them but he is still getting his sea legs. However, the injury to Beal will likely mean more time for rookie Kelly Oubre who potential as a 3-and-D player.
The Wizards usually go small off the bench. Gortat and Nene rarely play together anymore. Meyers Leonard had a monster performance in the last meeting between the two teams. But Stotts has options and the Wizards aren't particularly good at their style of small ball. Ed Davis was also a problem against the Wizards bench, grabbing seven rebounds.
The Lillard-Wall battle will be the best thing about this game. But the Blazers are good enough they don't have to let the game come down to who wins the point guard match-up. They should win this one, even though the first home game after a long trip is usually tough.