The Scouting Report: at Detroit Pistons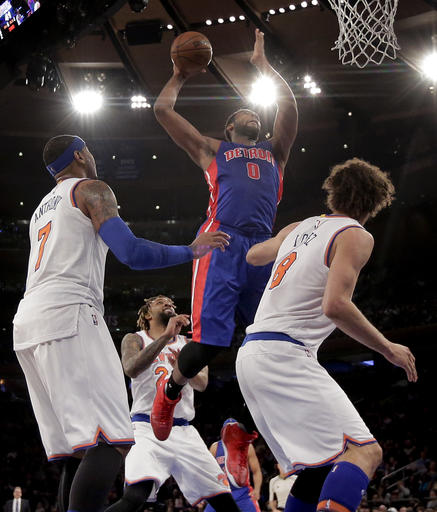 Projected starting line-up: Reggie Jackson, Kentavious Caldwell-Pope, Marcus Morris, Tobias Harris, Andre Drummond
Injuries: Anthony Tolliver (knee), Spencer Dinwiddie
The Detroit Pistons made what was probably the biggest trade in the days before the NBA trade deadline when they acquired Tobias Harris from the Orlando Magic in exchange for Brandon Jennings and Ersan Ilyasova. And although Harris has fit in with their already good starting five, the Pistons still find themselves in a battle for a playoff spot that will likely go down to the final day of the season.
The starting line-up of Jackson, Caldwell-Pope, Morris, Harris and Drummond has a better net-rating than their starting line-up with Ilyasova and has been performing stronger on the offensive end. Harris is also shooting a red-hot 45.5 percent from long range since going to Detroit. While you have to think that won't last, the Blazers can't count on that. Their defensive is still solid and it certainly helps when you have a shot-blocking threat in Drummond and one of the best perimeter defenders in the league in Caldwell-Pope, who will likely draw the assignment of Lillard.
Although their starters have performed well, the Pistons' depth, already a weak point, has taken another blow. 36-year old Steve Blake has been thrust into a more active role in the last month since sitting after the return of Brandon Jennings. The voided trade between the Pistons and the Rockets that would have netted them Marcus Thornton and Donatas Montiejunas would have helped. Darrun Hillard, Reggie Bullock and 10-day signing Justin Harper have all been getting minutes alongside Aron Baynes, who hasn't been quite as efficient offensively since leaving the Spurs.
They're 4-4 since the trade and just dropped a game to the Knicks on the road Saturday night. They're a young team, but this late in the season it's fair to guess that playing and losing before arriving home late isn't an encouraging development.
The Blazers will have the advantage of being rested and they also have depth they can use to their advantage. Meyers Leonard has played well and the Pistons usually play big. If he can hit some shots, it will cause problems for the defense. And while Blake is a fighter on the defensive end, he's no match for McCollum at this stage of his career. However, getting more minutes to Harkless and making the tired Pistons run with them would be another card to play. The Blazers are deeper than they were when they lost the 4th quarter of their November meeting in Portland 41-11.
No matter who is on the court, the Blazers need to be strong on the glass against the Pistons. They've struggled against good rebounding teams lately like Boston and Utah. The Pistons will always win the battle on the offensive boards, but if the Blazers can minimize that advantage so something manageable they have a solid chance to close the road trip 4-2.