The Scouting Report: at Toronto Raptors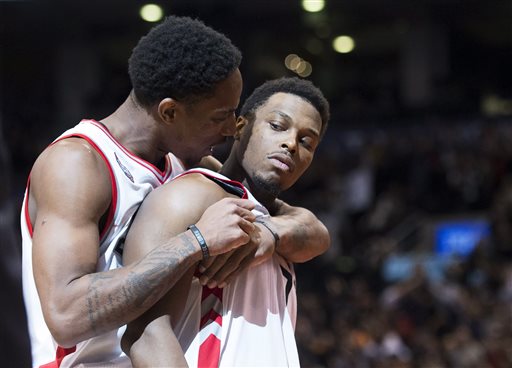 Projected starting line-up: Kyle Lowry, DeMar DeRozan, James Johnson, Luis Scola, Jonas Valanciunas
Injuries: DeMarre Carroll (knee) out indefinitely
New arrival: Jason Thompson signed after being waived by the Warriors. The Raptors released Toronto native and former No. 1 pick Anthony Bennett to make room for Thompson.
The Toronto Raptors are a very good team, which they've proven over the course of this season. They had a signature home win last week against the Cavaliers where Kyle Lowry went crazy and he and DeMar DeRozan have played at a high level all season.
They've been winning since the start of the season, powering through an injury to their big free agent prize last summer, DeMarre Carroll.
The Blazers are fresh off one of their worst games of the season on both sides of the ball. The Celtics are really good, which obviously played a part in that. But if it's any consolation against the No. 2 team in the East, the Blazers should have an easier time getting to the basket and getting good shots on Friday evening.
The Raptors are a good team but defense isn't exactly their strong suit, especially with their starting line-up.
A good start for the Blazers will be important because the Raptors bench is an AKO: ass-kicking outfit. All they do is come out and put it on teams when their bench is in the game.  Cory Joseph's speed off the pick and roll and ability to hit midrange shots has been huge. Patrick Patterson posted an single-game offensive rating of 209 (!!!!) against the Blazers. That's over 2 points per possession. They were effectively doubling up the Blazers when he was on the court according to Basketball-Reference.
And in this match-up, it's especially important because the Blazers lose nothing at point guard over 48 minutes. The Raptors lose a little, but not much when Joseph is in the game. And perhaps more importantly, Joseph can give Lowry a breather against the opponents elite scorers when they're out there together.
After a poor performance against a solid Celtics bench, the Blazers bench have an opportunity for revenge against an even better second unit. Gerald Henderson, as my Raptors fans friends tell me, is a Raptors killer dating back to his Charlotte days. And they're right about that as Henderson averages 14.6 points per game vs. Toronto, his highest average against any team.
It's a pick your poison situation against Lillard and McCollum. And I don't think the Raptors will have much success slowing the duo down. To have a chance of getting a tough road win, the Blazers must be better defensively at the jump. The Blazers gave up 37 first quarter points in the first meeting against the Raptors, which forced them to play from behind for the rest of the game.