Blazers' coach Terry Stotts named Western Conference Coach of the Month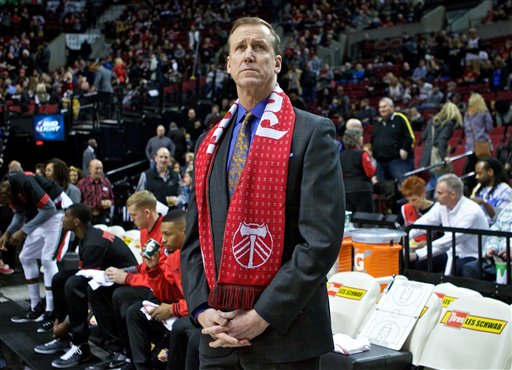 Throughout their magical last month and a half, there has been no shortage of good press for the Portland Trail Blazers. And the first day of March brought more as head coach Terry Stotts was named Western Conference Coach of the Month for the month February. Celtics head coach Brad Stevens, Portland's opponent on Wednesday, was named Coach of the Month in the East.
The Blazers went 9-2 during the month of February and also went 4-0 on the road in the truncated month. Their month included becoming one of five teams this season to defeat the Golden State Warriors on Feb. 19 and some nice road wins at Houston, Memphis, Chicago and Indiana.
Throughout that time, Stotts has been flexible with his rotations and has adjusted to the circumstances of each match-up extraordinarily well. Perhaps necessity has spurred his new found flexibility with a 10-man rotation, but the results have been spectacular. To wit, The Columbian's sports editor and my boss Micah Rice uncovered a statistic that puts into perspective how flexible Stotts has been.
Stotts has also mined deeper into his lineup for significant minutes than any other coach in the NBA. Thanks to Stotts' myriad rotations, Portland has 10 players who have logged at least 800 minutes this season, which is an average of 14.8 minutes over 54 games.

Only Phoenix, which is 14-40 and has thrown in the towel, has as many players who have logged that level of minutes.

Among teams currently in playoff position, most have no more than eight players averaging that many minutes. San Antonio and the Los Angeles Clippers have nine players at that threshold, but have seen Tim Duncan and Blake Griffin, respectively, miss significant time with injuries.
Read Micah's full column on why Terry Stotts should be coach of the year.
This time is also the third time in Stotts' Blazers tenure to be named Coach of the Month. That ties a franchise record for the most Coach of the Month awards alongside Nate McMillan and Rick Adelman.
Stotts, of course, is in the final year of his deal with a team option coming up for next season. President of Basketball Operations Neil Olshey turned down a chance to answer questions regarding Stotts' status after the trade deadline, which should be expected. Even as the Blazers were having their best season in 15 years, Olshey and Stotts waited to get an extension done until after the playoffs two seasons ago. There's little reason to believe that the same wont happen this season, except for the general uncertainty that comes until you've signed on the dotted line.
The Blazers will face the New York Knicks later this afternoon at 4:30 p.m. pacific time at Madison Square Garden.