The Scouting Report: at New York Knicks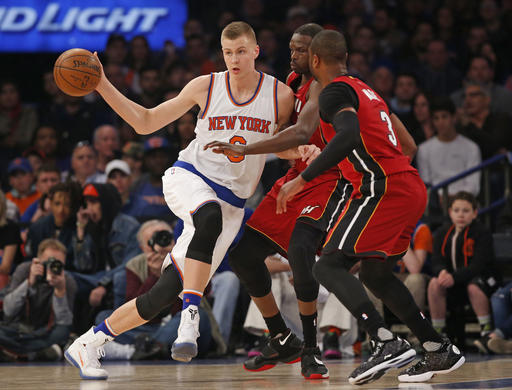 Projected starting line-up: Jose Calderon, Langston Galloway, Carmelo Anthony, Kristaps Porzingis, Robin Lopez
Injuries: Arron Afflalo (thigh bruise), Lou Amundson (illness), Cleanthony Early (off-court incident)
The New York Knicks season was going downhill and president of basketball operations Phil Jackson decided that they needed a change. Out was his handpicked choice Derek Fisher and in came Kurt Rambis, whose last head coaching job included a notorious benching of Kevin Love in favor of Ryan Gomes during his rookie season.
Things, predictably, haven't gotten much better since Rambis took over. The Knicks are 2-5 since Rambis took over, which included them breaking a seven-game losing streak which included an ugly loss to crosstown Nets. And, Rambis is up to his old tricks by being inconsistent with Porzingis' minutes. He logged just 22 minutes in their loss to the Heat, but being a rookie, he's no stranger to a bad game or two.
The Blazers were fortunate that he had one of his toughest nights against them back in November. But the Knicks were more fortunate to have Carmelo Anthony go off for 37 points, matching a season-high in one of his best scoring performances of the season. Anthony's greatness this season has been in his willingness to set up his teammates. He is averaging a career-high 4.2 assists per game.
Of course it helps that the team around him is better, even if the East's overall improvement has been more. Porzingis is exciting and his offensive rebounds are something you can't really stop. He has great defensive instincts and if he's feeling better than he did when the Knicks were in Portland, he can really cause some problems. Robin Lopez is also a good rim defender and can bother the Blazers drives at the rim in tandem with Porzingis.
The bench and the substitutions are where things get dicey for New York. Lance Thomas is a good bet to play most nights and Derrick Williams is too. One positive of the move to Rambis has been a little more time for Jerian Grant instead of running Sasha Vujacic out there long after his run of a useful NBA player has ended.
The Blazers should win this game and their ability to take care of business would make you think they should come away with this one. But the Knicks season looks to be in the dumps and Tuesday presents an opportunity to feel like kings for a night against one of the hottest teams in the league.