The Scouting Report: Houston Rockets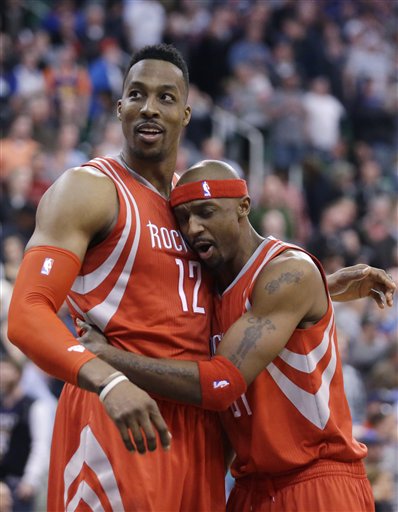 Projected starting line-up: Patrick Beverley, James Harden, Trevor Ariza, Josh Smith, Dwight Howard
The last time we saw these guys, it wasn't pretty. They were in shambles as the Blazers picked them apart in two of their final three games before the All-Star break. Jason Terry ranted about the lack of chemistry in the Portland media room and Dwight Howard was preaching positivity before having an impromptu meeting with James Harden and general manager Daryl Morey.
The trade deadline came and went and still, the team was intact. The message clear that the management still believed in what they had or at least they didn't find anything worth enough breaking up a team that went to the Western Conference Finals a year ago. They kept Dwight Howard, they kept Ty Lawson and decided to run it back.
As poorly as they ended the pre-All-Star stretch of the season Rockets fans shouldn't freak out just yet, because they're showing signs that they can get this back together. They handled the Suns by 16 in the first game after the break and although they lost a close one to the Jazz on Tuesday, they showed some fight. And offensively they looked to have a little more zip as a unit with harder cuts and quicker decisions at least against Utah. Howard even stepped between Harden and Trevor Booker late in the game and Harden was also sharing the ball down the stretch.
Howard can still be a monster and at this point is probably underrated, something we discussed on the Bulls vs. Blazers NBA podcast this week. He's still a menace in the paint and although he can't make up for all of his teammates flaws, he sure can make up for a lot of them on the defensive end.
Harden is going to get 30 in his sleep and although he has had big games against the Blazers, it hasn't mattered lately. And were it not for a miracle shot from Corey Brewer there's a good chance it wouldn't have mattered at all.
But the Rockets know how much weight this game carries, given the tiebreaker implications. And also because they want some kind of redemption after getting their butts kicked by the Blazers in the last two meetings. They've lost seven of ten games and only one of those wins has come against a team over .500.
But Harden is going to get it going and Howard will impact the game. At least Tuesday, they looked like a more complete team. Jason Terry hit some big shots but Ariza was active, Beverley was active and Howard dominated the interior. If that same team shows up on Thursday, the Blazers will be in for a tough one before they start their longest remaining road trip of the season this weekend.
They had a trade that netted them a nice first round pick from Detroit in exchange for Donatas Montiejunas, who has been hurt all season, and veteran  guard Marcus Thornton. But that fell through, which one only appear to add another layer of awkwardness on a situation that's been anything but smooth this season.