The Scouting Report: Utah Jazz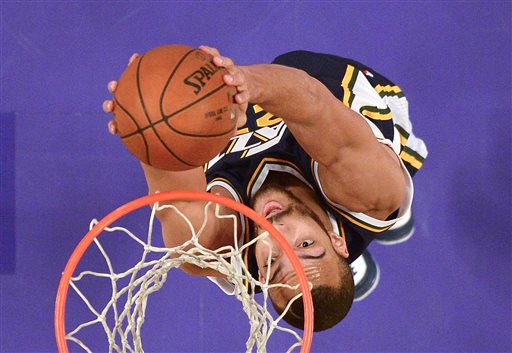 Projected starting line-up: Raul Neto, Rodney Hood, Gordon Hayward, Derrick Favors, Rudy Gobert
Maybe it's not fair to put this on them since they're such a young team, but more was expected of the Utah Jazz this season and the biggest reason why has been injuries. But at least among's their best players, they finally have their health.
Derrick Favors had to get a new mattress and stop sleeping on his stomach, which they hope will turn his chronic back problems around. Rudy Gobert returned from a knee injury and is playing well once again.
Priority No. 1 for the Blazers in this match-up will be trying to slow down Utah's excellent wing duo of Rodney Hood and Gordon Hayward. They both have big size advantages in most match-ups and Hood has played well against the Blazers this season. Al-Farouq Aminu has had some excellent battles this season against Hayward, but even the best defense isn't enough against Hayward sometimes.
Favors is a monster in the post and both he and Gobert will present problems defensively. This could be a good match-up for Meyers Leonard to create problems against a more interior-focused frontline with good shot blocking instincts. But if Noah Vonleh plays the way he did against the Warriors, he'll create just as many problems. But having shooting to counteract Gobert and Favors might be the recipe for Portland Sunday.
Trey Lyles has seen his playing time go down since the return of Favors but he has shown flashes of brilliance in his rookie season. He had a nice outing in Utah's other trip to Portland.
Sunday's match-up is the final regular season match-up and Portland has won two of the first three meetings. The Jazz are getting healthy at the right time. Alec Burks should be back before the end of the regular season which should help bolster their bench and they boosted their point guard position by acquiring Shelvin Mack from Atlanta at the deadline. Whether Mack plays or not remains to be seen, but they've been getting so little from Neto and Burke that he may warrant a shot.