The Scouting Report: Golden State Warriors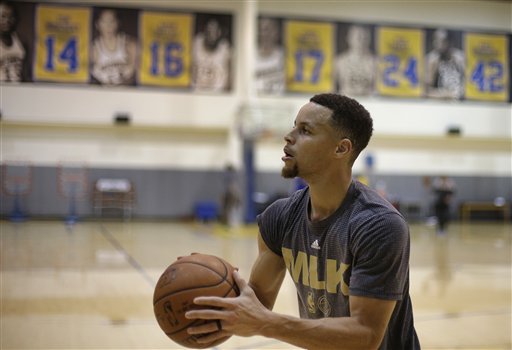 Projected starting line-up: Stephen Curry, Klay Thompson, Harrison Barnes, Draymond Green, Andrew Bogut
The Golden State Warriors kick off the stretch run of a potentially historic season Friday night in Portland when they take on the Blazers. Sitting at 48-4, the Warriors have 30 games left on the schedule and a great deal of tough games in their quest for an NBA-record 73 win season.
It will be the second of four match-ups this season between the two teams and the final trip to Portland this season for the Champs. In the previous meeting, the Warriors did what they normally do. They jumped out to a big double-digit lead in the first quarter and cruised to a 128-108 win over the Blazers, surviving a 40-point night from Damian Lillard.
The Warriors defense moved the Blazers all over the perimeter and got lay-up after lay-up on the Blazers. Their pace is unlike almost any other team in the league not only in the measure of possessions per game but how efficiently they use their pace. Every pass is the right pass and every possession is an exhausting exercise for the defense.
The Blazers have great guards that can keep up with the Warriors guards if they're all clicking at the same time. The only problem for the Blazers in the last meeting was that McCollum had a rough shooting night, going 7-of-23 from the field. Crabbe provided 18 points off the bench but the Blazers didn't have anybody else on the team get over 20 points to aid Lillard.
Defensively, the Blazers need to be tighter, but it's a nearly impossible task to slow the Warriors down.
Klay Thompson lit the Blazers up for 36 points, including seven 3-pointers. Draymond Green had a triple-double and exploited the Blazers in a variety of ways. And of course there is Curry, the league's best player and an impossible guard.
The Blazers also didn't get as much of a boost from their bench as they got in subsequent weeks when they took on the Warriors. Crabbe brought it but Henderson still hadn't found his rhythm and Meyers Leonard didn't really get going. If they can get more from their bench in the times Curry, Thompson or Green are on the bench, that will be their best chance to snag a win.
And it being the first game after the All-Star break, they're best hope may be the Warriors potentially needed a game to get going.