Blazers get future 1st round pick in 3-team deal along with Anderson Varejao's contract, per reports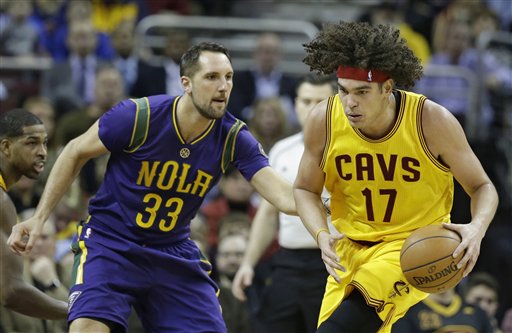 The Portland Trail Blazers finally got involved in the NBA trade season when it was reported Thursday morning that they'd become part of a 3-team deal with the Cleveland Cavaliers and Orlando Magic that sent Channing Frye to the Cavs.
In the deal the Blazers acquired Anderson Varejao from the Cavaliers and a "conditional" 1st round pick in exchange for a second round pick that went to Orlando.
USA Today's Sam Amick was the first to report Varejao going to Portland but the most relevant details for the Blazers come from ESPN's Cavaliers writer Dave McMenamin.
Further details on Frye/Varejao deal per source: Cunningham from CLE to ORL; Cavs send conditional 1st to POR & 2nd Rd pick from POR to ORL

— Dave McMenamin (@mcten) February 18, 2016
According to Real GM's database for future drafts, the Cavaliers owe their 2016 pick to the Phoenix Suns if it falls between 11 and 30 which is certainly will. And since the Stepien Rule prevents teams from trading away first round picks in consecutive drafts, the earliest the first rounder could be conveyed is 2018, as pointed out by Nate Duncan.
Adrian Wojnarowski reported that the Blazers are expected to waive Varejao, but to do so, they needed to create an extra roster spot since they already had a full 15-man roster. Woj's colleague Shams Charania reported that the Blazers have waived point guard Tim Fraizer in order to make room for the Varejao deal.
If the Blazers buy out Varejao with the stretch provision, it spreads his $9.6 million in salary this season over a handful of years. According to Eric Pincus of Basketball Insiders, the next two years of Varejao's contract are non-guaranteed, so the Blazers aren't on the hook after this year.
However, this doesn't necessarily mean that Frazier's Blazers tenure is definitely over, especially if they go through with waiving Varejao. If they want to, the Blazers can re-sign Frazier, provided he clears waivers, which is a two-day process. So, in theory we could see Frazier back with the Blazers, but that's up to the 29 other teams to let it happen.
The Blazers are going to have practice at midday where we expect reaction from the team after the deadline.