Trail Mix: NBA trade deadline rumors, rule change on fouling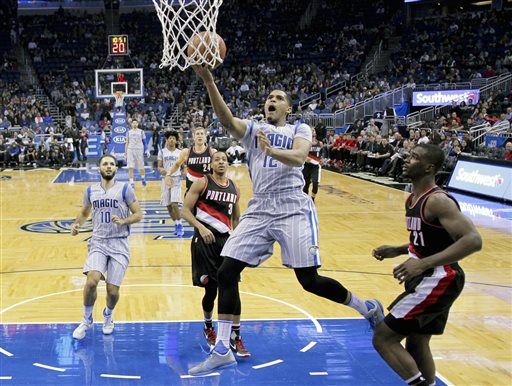 The Portland Trail Blazers have the most cap space of any team in the league with less than 24 hours to go before the NBA's trade deadline. We reported a few weeks ago that the Blazers did not look to be buyers at the trade deadline and as the weeks have gone on, little has changed.
Now that they aren't buyers in the sense of acquiring a big name with their $20 million in cap space doesn't mean that they won't make a deal. During his time with the Blazers, Olshey has made a deadline deal in two out of the last three seasons. We've already seen Portland use their cap space to lighten the luxury tax load for the Cleveland Cavaliers in exchange for second round picks in the summer.
Zach Lowe of ESPN.com reported in his Tuesday column that the Blazers are still likely to stand pat at this stage and likely look for another version of the Cleveland deal they executed in the summer. An interesting caveat is Lowe's mention of Milwaukee's Greg Monroe, who nearly came to Portland in the summer and is or isn't on the market, depending on who you talk to.
Alas, the Blazers owe their pick to Denver if they make the playoffs, and given Olshey's draft record, he might prefer to keep it. My best guess: Portland avoids an upgrade, uses its space to nab a couple of extra second-rounders and resumes its pursuit of Monroe — or someone else — around draft time.
Monroe's inclusion is interesting and elsewhere in Lowe's talks about the Blazers he mentions that talks with Meyers Leonard gave the Blazers "sticker shock." That jives with just about everything we've read and heard about Leonard's high asking price, which was somewhere in the $60 million range.
In a post-Enes Kanter max contract world, anything is possible. In a market where the price tags on players are skyrocketing, Leonard and his people are smart enough to wait. But it's setting up a potentially tenuous situation come July for he and the Blazers but that's the business.
We finally had some action yesterday with a couple of trades a few more that are rumored to be close. The first big trade of the trade season involved was Orlando's Tobias Harris, who signed a max deal in the offseason, going to Detroit in exchange for Brandon Jennings and Ersan Ilyasova who get to reunite with former Bucks coach Scott Skiles in Orlando.
The other big deal of the day was the trade of Courtney Lee moving to Charlotte in a 3-team deal with Memphis and Miami. The Grizzlies got two second rounders, PJ Hairston and Chris Anderson in return while Brian Roberts went from Charlotte to Miami to help their point guard situation with Tyler Johnson out for a while.
The Hornets desperately needed wing help after finding out that Michael Kidd-Gilchrist was done for the season after tearing his labrum again. It was an excellent move for the Hornets and an upgrade at that, which should help them get into the postseason.
For Memphis, the move is a little trickier and certainly more interesting.
People I've spoken with around the league are unsure what to make of it. Some teams read it as a move towards a rebuild, but others aren't sure what they're up to. As many have pointed out, they were lacking assets and the trade of Lee to acquire a few extra picks could be a moved to make a bigger deal. As of now, on paper it's a clear step back in terms of on-court product and with Marc Gasol's season likely done with a broken foot.
They have an obligation of a 1st rounder that falls between 14 and 6 to Denver, which they could out of the way by missing the playoffs. And at this stage, a full on tank getting them to a top-five pick to keep their first rounder is almost impossible.
Mike Conley has been rumored to be on the block before. They also owe a future first rounder to the Celtics thanks to the Jeff Green deal. Marc Stein of ESPN reported that the Grizzlies have refused to talk Conley with any team, but given their position, the injury to Gasol and the acquisition of assets, few teams are more interesting.
But the biggest rumors have just started to come. The Clippers and Cavaliers are both making pursuits at Orlando's Channing Frye who could be a major addition for both teams in the playoffs, according to Adrian Wojnarowski.
Of course these names don't move the needle for most fans. Clippers head coach and lead basketball decision maker Doc Rivers came out and told reporters yesterday that they're not trading Blake Griffin. According to HBO's Bill Simmons on his NBA podcast with Joe House that was published earlier this week, the Clippers were the ones who initiated trade talks with the Denver Nuggets, but the Nuggets reportedly pulled out because of their reluctance to give up Nikola Jokic.
Dwight Howard rumors started to pick up steam yesterday with reports that the Hornets were interested in him but those were subsequently put out by Woj.
But the potential deal I'm most interested in came over the weekend from Frank Isola of the New York Daily News, detailing a potential blockbuster which could send Carmelo Anthony to the Cavaliers and Kevin Love to the Boston Celtics. But Anthony would have to waive his no trade clause to do so and he's been very vocal about his love of living in New York City.
But come on, this would be great for basketball. Carmelo at power forward, LeBron at center vs. the Warriors? It's almost like they'd really have a chance, but that seems like a pipe dream for now.
Other stuff we missed