Blazers talk trade deadline, CJ McCollum discusses Toronto experience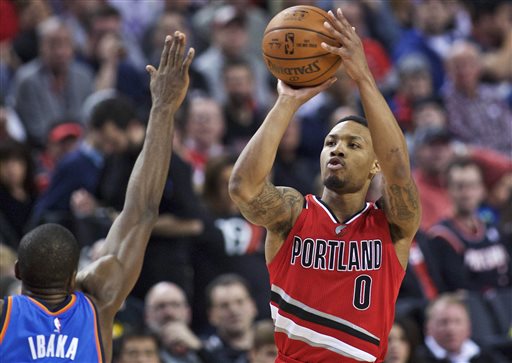 TUALATIN, Ore –– The Portland Trail Blazers returned to the practice court Wednesday evening, catching up with their co-workers and ignoring the unknown.
CJ McCollum, Damian Lillard and several other Blazers were in Toronto for the All-Star weekend while others, including head coach Terry Stotts escaped to warmer climates for a few days.
While all 15 players on the roster showed up and the mood of practice seemed upbeat, they're also actively blocking out the inevitability of the NBA trade deadline which is just about 15 hours away. Stotts went as far as to tell reporters that he wouldn't answer questions regarding the trade deadline.
But for the players, it's something most of them have had to come to grips with several times before.
"I mean you always think when the trade deadline approaches, you hope that everybody comes back but you understand it's a business," McCollum said. "We've seen it many times when players get traded. I've seen friends get traded. You hope for the best."
Lillard made public his desire to keep the Blazers as they are via his twitter account and reinforced that feeling, even going as far as to say he expects that all 15 players will be back in the locker room tomorrow. But he has no illusions either.
"Just like me everybody else has confidence we'll be the same team," Lillard said. "I don't see much change happening but we going to go and do what we do on the court and we're going to let them do their job behind closed doors."
Lillard also addressed his relationship with President of Basketball Operations Neil Olshey when it comes to matters of personnel, giving him a ringing endorsement.
"If Neil asks me a question and I give my honest opinion," Lillard said. "He respects my opinion. I also respect that he has to do a job and since he's been here he's done a great job. We'll just see what happens."
Meyers Leonard, whose name has been floated around given his restricted free-agency, said that he doesn't think the team is at all affected by the looming deadline.
"To be fair I didn't even know everyone was thinking about it," Leonard said when responding to question about the amount of attention paid by fans to the trade deadline. "Obviously without, the players have no say. We all feel very comfortable with how we ended the first two thirds of the season and how we did going into the All-Star break. We'll have another good one tomorrow and be ready Friday."
Leonard re-iterated: "It's not on our minds whatsoever," and answered with an emphatic no when asked if the deadline was at all on his mind personally.
The Blazers had a pretty tough practice in their first day back aimed at helping players get their wind back and their basketball legs back under them.
McCollum talks about Toronto experience
McCollum of course participated in the Skills Challenge and was a late addition to the 3-point shootout in addition to participating in community service events. And McCollum was also getting some work in as a journalist for NBA TV's NBA Inside Stuff.
Although All-Star is a grand big party, it seems like McCollum did have a whole lot of time for that.
"I got to interview Greivis Vasquez along with Masai Ujiri, who is the General Manager of the Raptors," McCollum said. "I did some stuff for NBA inside stuff which was fun. Other than that I was working out, losing in some events and having fun."
McCollum said that after finding out he would be in the 3-point shootout that he went to the Raptors practice facility on the Friday night before the event to get reps on the racks. He only had 14 points but he knows what to expect next time.
"But the day of the 3-point contest I actually didn't get to practice because I was doing the skills," McCollum said. "So during the Skills 3-point shooters get their reps in the practice gym. Then there is 4 minutes on the clock and everyone shoots off the rack and then you start. I got some work to do shooting off racks."
McCollum did have enough time to check out this Mountain Dew activation where he was photographed messing around with VR technology.
(Photo from AP)