Blazers G CJ McCollum comes up short in All-Star Saturday events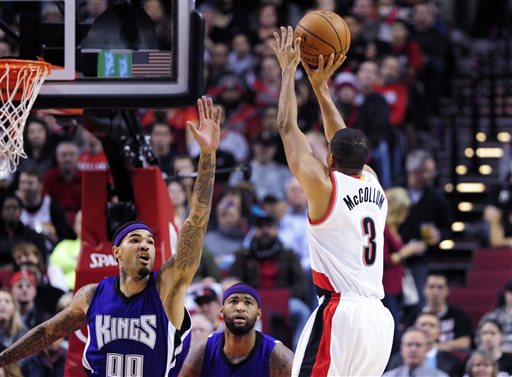 Portland Trail Blazers guard CJ McCollum competed in two events during the NBA's epic All-Star Saturday night festivities. He competed in both the Taco Bell Skills Challenge and the Foot Locker 3-point shootout, as a late addition replacing Miami's Chris Bosh who pulled out yesterday.
Things started well for the lone Blazers representative at All-Star weekend when he took down Los Angeles' Jordan Clarkson in his first match-up. But if Skills Challenge's past has taught us anything, one little mistake can mean a world of difference. That little mistake reared its ugly head for McCollum against Boston's Isaiah Thomas.
https://vine.co/v/inQj9ZYjrKw/embed
Thomas went on to lose in the championship round to Minnesota phenom center Karl-Anthony Towns, who took home the title for the big guys in their first year involved in the competition.
McCollum's chances to advance in the 3-point shootout were not as good. It's not that McCollum isn't an excellent shooter, obviously. He's shooting 39 percent, but as JJ Redick can attest to, grabbing the ball off the rack is much different than taking a pull-up or receiving a perfect pass. And with media responsibilities, NBA Cares events, union meetings and all of the other exciting stuff that happens at All-Star weekend, it's reasonable to think that McCollum didn't have much practice time.
McCollum finished with score of 14, which was the second-lowest score of the first round, finishing ahead of Milwuakee's Khris Middleton.
Golden State's Klay Thompson went on to win the event.
Minnesota's Zach LaVine won an epic Slam Dunk contest battle against Aaron Gordon.
It probably won't be the last time we see CJ at All-Star weekend, so he'll have another shot at All-Star glory.