Trail Mix: Dwight Howard on the block, Blazers interested in Shabazz Muhammad?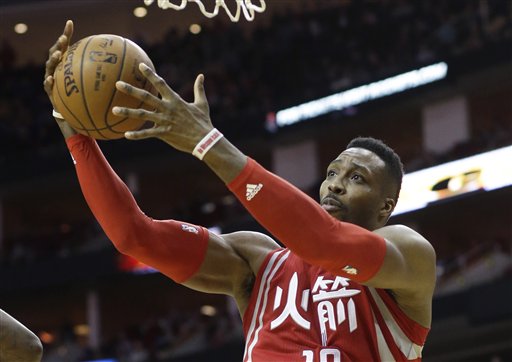 Happy All-Star weekend, everybody! Blazers guard CJ McCollum is in Toronto and will compete tomorrow, Saturday night, in the "Taco Bell" Skills Challenge.
He's the lone Blazers representative in Toronto this weekend and stopped by to chat with the folks from The Vertical. But he will almost certainly have some of his own journalistic content coming out of Toronto.
Houston point guard Patrick Beverley will not be in Toronto to defend his title. Beverley will be replaced by Denver's Emmanuel Mudiay. McCollum will face off against Mudiay, Boston's Isaiah Thomas, Los Angeles' Jordan Clarkson and big men Draymond Green of the Warriors, Anthony Davis of the Pelicans and DeMarcus Cousins of the Kings.
But the Houston news that has everybody talking was the revelation that the Rockets have put Dwight Howard on the trading block, according to Woj. HBO's Bill Simmons tweeted out his own hypothetical Dwight-to-Portland trade this morning but rumors about Dwight being on the block have been swirling for weeks now.
So, for fun, let's weight the pros and cons of a potential Dwight trade.
If you look at Simmons' proposition on the surface, it doesn't seem like getting Dwight would cost very much. Plumlee is not a good rim protector and replacing him with Howard is one of the few moves that could help Portland defensively almost immediately.
However, offensively, one has to wonder what Howard's need for post touches would do to Portland's offense. Since the departure of Aldridge, they post up less than any team in the NBA. If the Blazers can get him to commit to being a pick and roll big man, that's huge, but it remains to be seen whether Howard will do that. But if they could get him to, imagine defenses trying to stop Lillard and McCollum coming off Howard screens. Imagine all of the corner 3's they would get out of that look. Portland would be more of a terror offensively than they already are.
But another thing Portland would lose in a potential Plumlee for Howard swap is Plumlee's ability to play out of the pick and roll. His ability to make the next pass or make a dribble move after getting the ball from Lillard or McCollum has been invaluable to Portland's offense this season. He's third on the team in assists.
Howard is a smarter player than he gets credit for, but a great passer he is not. Lillard and McCollum have been the catalysts for Portland's success but their big men all being willing ball-movers has been a huge asset. But Portland has the space and are already playing this season with house money. And while making a deal for Dwight is risky given his ability to opt out after this year, Plumlee will be a restricted free-agent after next season. It would clearly be a roll of the dice and the Blazers know this. Everybody with half a brain who has followed the NBA for the last five years knows this. Also, a trade of Frazier would rob Lillard of one of his closest friends on the team.
Woj reported that Howard's agent Dan Fegan is working on destinations. Fegan and Howard put out statements to ESPN that they are not actively seeking out trades, which puts the onus for the rumors squarely on the Rockets.
Things will heat up next week and we probably won't hear a trade, if there is one, until then. There's no reason the Rockets, like every team, shouldn't wait it out until the deadline to try and work the best possible deal.
Speaking of deals, the Blazers have reportedly inquired about Minnesota shooting guard Shabazz Muhammad, according to Darren Wolfson of ESPN Radio 1500 in Minnesota. The Suns, Celtics and Clippers are also all reportedly interested in Muhammad.
A move for Muhammad is the type of move that seems to fit more with Portland's development timeline because he's close in age to Portland's key players than a potential Howard move. But other than the fact he's closer in age, you have to wonder about how much he actually gives you. Allen Crabbe is already a better scorer and Gerald Henderson a much better defender. The Blazers already have enough trouble finding minutes for all their guys.
Perhaps the most likely thing to look for when it comes to the Blazers and transactions is going to be adding salary after the deadline.
Bobby Marks of The Vertical released his Blazers guide to the trade deadline today and wrote that the after-deadline move is something to look for given that they have $13 million in cap room. But they could also facilitate a trade for other teams, as he notes below.
Portland could be one of the sleeper teams at the deadline.

The Blazers, with close to $20 million in cap space, could take on contracts with the goal of obtaining a future pick or key asset.
The Blazers could definitely get involved here at the deadline and the names are starting to swirl. An asset play like the one Marks mentioned would be a smart way to re-stock their collection of owed draft picks and be the smartest long-term move they can make.
We'll get you caught up with all the latest as we get closer to the deadline, which is Noon pacific time on Feb. 18.