Blazers guard CJ McCollum replaces Chris Bosh in 3-point shootout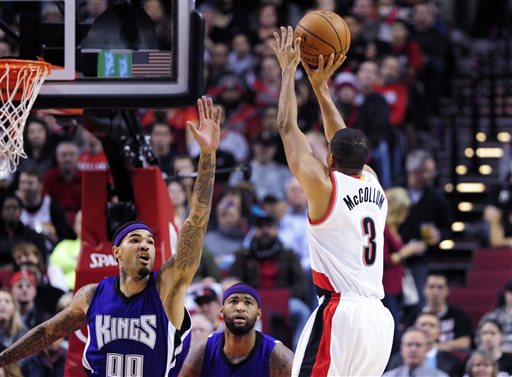 Portland Trail Blazers shooting guard CJ McCollum has been added to the line-up for All-Star Saturday Night's highly anticipated 3-point shootout. McCollum replaces Miami Heat forward Chris Bosh who pulled out of the All-Star game earlier this afternoon.
McCollum will face off against Golden State's Stephen Curry and Klay Thompson, James Harden of the Rockets, Milwaukee's Chris Middleton, Toronto's Kyle Lowry, JJ Redick of the Clippers and Devin Booker of the Phoenix Suns.
No Blazers player has ever won the 3-point shootout. McCollum is shooting 39 percent from 3-point range this season and is currently 9th in the league in 3-pointers made. He's averaging a career-high 20.7 points per game up from less than seven points per game last season.
McCollum joins Wesley Matthews, Damian Lillard, Cliff Robinson, Terry Porter, Clyde Drexler, Danny Ainge and Kiki Vandeweghe as the only Blazers to compete in the 3-point shootout. Wesley Matthews shot well last year but it was one of the toughest fields in recent memory. This year's field is just as good, if not better, so McCollum will be tested. But he can get hot with the best of them and has an excellent chance to be the first Blazer to win the event.
McCollum was already slated to participate in the Taco Bell Skills Challenge on All-Star Saturday night. McCollum will face off against Denver's Emmanuel Mudiay, who replaced defending champion Patrick Beverley, as well as, Boston's Isaiah Thomas, Jordan Clarkson of the Lakers, Golden State's Draymond Green, New Orleans' Anthony Davis and DeMarcus Cousins of the Sacramento Kings.
McCollum is also the second Blazer to compete in multiple All-Star Saturday events, joining his buddy Damian Lillard, who will be in Toronto supporting McCollum and former Blazer Will "The Thrill" Barton, who is competing in the Slam Dunk contest.
McCollum has said obviously that his goal is to win the Skills Challenge and he had previously expressed his interest in being in the 3-point shootout before the announcements were made. He's gotten his wish and now will be one of the stars of the All-Star Saturday night.