The Scouting Report: Houston Rockets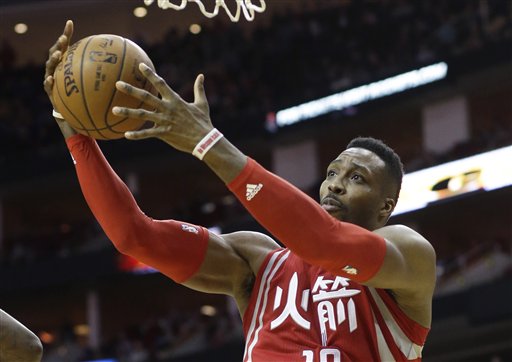 Projected starting line-up: Patrick Beverley, James Harden, Trevor Ariza, Corey Brewer, Dwight Howard
Injuries: Donatas Montiejunas (back), Terrence Jones (concussion)
Nothing's really changed for the Houston Rockets. They're still a mess. As Corbin Smith of VICE Sports told us on our Bulls vs. Blazers Podcast, they're like the Clippers, infested with malaise, without the added bonus of being Clippers. They're just malaise. They demonstrated this in Saturday's blowout home loss to the Blazers.
But they then showed why their play this season has been so frustrating on Tuesday in Golden State. They hung with the Warriors through three quarters and actually looked like they wanted to be there! They played pretty good defense and Harden was magical. But the fourth quarter happened, they didn't have the same energy and the Warriors bench ran them out of the building. They're going to be tired and given Houston's tendencies this year, I wouldn't bet against an all out collapse after coming so close to redemption.
The Rockets have not showed any signs of playing even average defense this season. The Blazers won on Saturday thanks to keying in on Harden and not letting anybody else get going. They were smart by closing off his supply lines and easy passing lanes. The Rockets had 24 turnovers and 10 of them came courtesy of Harden. His 33 points were mostly empty calories. And the Blazers are definitely playing better basketball right now.
If the Blazers are to have success, it needs to start on the defensive end. As they showed on Saturday, if they can take care of that, the rest will take care of itself thanks to Houston's sorry excuse for a defense. CJ McCollum made the Rockets defense, Harden in particular, look especially bad.
[youtube http://www.youtube.com/watch?v=DnxXAUWcKEA]
Kevin McHale pulled no punches when he was in-studio with the guys on "Inside The NBA," saying that Harden showed up to training camp out of shape and that Howard's health limited his availability. The Rockets have won a great percentage of their games since firing McHale but one wonders how much of that is just a product of coincidence.
J.B. Bickerstaff has tried to put his foot down, most recently executing a line change in a win over Phoenix when they gave up 15 points in the first 4 minutes of the game. He's tried his best but things look to have gone stale in Houston with this group and the duo of Harden and Howard together. What comes in the next week before the trade deadline will be much more important for the fate of this Houston team than anything they do on the court before the All-Star break.
They look broken and the rest of the Western Conference–save for the Blazers and the Spurs–all carry themselves with a sense of resignation to the inevitability of the Warriors. On Tuesday they looked alive and if they bring that type of effort on Wednesday, we'll have a good game on our hands. But Tuesday may have taken enough out of them to make that type of effort impossible.
The Blazers have an excellent opportunity to gain ground on the Rockets and a win on Wednesday will secure at least a tie of the season series. Harden has put on excellent performances in Portland before and it's going to take something much better than his game on Saturday to beat a suddenly red-hot Blazers team that's played solid ball on both ends for the past month.