VIDEO: Meyers Leonard and Marc Gasol given double technicals after altercation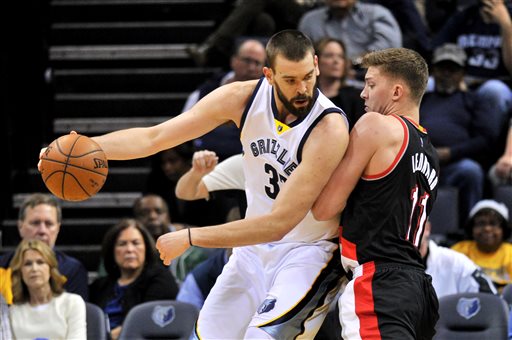 Meyers Leonard has a way with big men. A couple of weeks ago, he got into it with DeMarcus Cousins after his physical play got on the talented big man's nerves. Leonard ticked Cousins off so much that Cousins felt compelled to call out Leonard as not being "a defender."
He got into it at times with Zach Randolph in last year's playoffs and he also guarded Marc Gasol last year. But tonight, Leonard's uncanny ability to get under the skin of opposing big men was on display against Marc Gasol, who was not pleased with Leonard bringing the fight to him. After Leonard was more physical than usual after the whistle, Gasol cocked back, like Cousins did a few weeks ago, before thinking better of it.
https://vine.co/v/i1jATwg2Mn2/embed
The referees then took an abnormally long time deliberating on the punishment during a replay review, which resulted in a double-technical for both Leonard and Gasol. Leonard was also hit with a common foul.
Leonard's trip has been full of these little moments. He played the role of enforcer, stepping between Damian Lillard and an aggressive Patrick Beverley on Saturday in Houston. He's kind of becoming a future Bill Laimbeer.
The Blazers trailed the Grizzlies 27-25 after the first quarter.