Blazers grind out 112-106 OT win in Memphis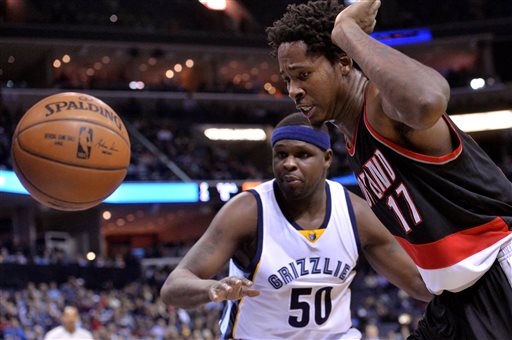 The Blazers continue to be one of the few teams in the NBA–thanks to the Warriors making everyone else realize they have no chance–that look like they're enjoying themselves. And perhaps, their improvement over the past month is here to stay.
It was a wild one, but in the end, the Portland Trail Blazers left Memphis with a 112-106 overtime victory over an improved Grizzlies team. Damian Lillard had 33 points and five assists and his backcourt partner CJ McCollum came up big late, scoring 12 of his 21 points in the 4th quarter and overtime to pull out a hard-fought win over Memphis. The Blazers are now 12-3 over their last 15 games.
McCollum came up big late and the bench came up big once again with Gerald Henderson, Ed Davis and Allen Crabbe playing big roles down the stretch. Henderson had 16 points on 7-12 shooting including a crucial tip-in (with a little help from Jeff Green) on the final play of regulation, Crabbe had 13 points coming off a stomach bug and Davis played excellent defense against Zach Randolph in the 4th quarter and overtime.
https://vine.co/v/i1I6EivxEYq/embed
Sure, the Blazers were handed a few breaks, but no more that went against them earlier in the season, especially at the Grindhouse. It helped that Marc Gasol re-injured his foot earlier in the game after banging with Meyers Leonard down low. It helped that the Grizzlies went for a quick shot on the penultimate possession allowing the Blazers to have a chance to answer. But that doesn't take away from a good road win, something that has not been easy for the Blazers in any circumstance (see: loss at Philly).
And the Blazers almost lost this one because of the little things. The Grizzlies burned them for end of quarter buckets in the 1st and 3rd quarters, which looked like it would be the difference. But Portland got a few bounces to go their way and fought through three bad quarters from McCollum to pull it out. Either team would have had a claim to fighting through adversity with regards to the officiating, which was terribly inconsistent both ways in a physical game.
We were expecting a physical affair between these two teams and early on, the game lived up to expectations. Meyers Leonard got the surprise start after Moe Harkless started the last two games in place of Noah Vonleh. Leonard's purpose? To bother Marc Gasol in the post. And Leonard accomplished his mission by being physical with Gasol in the post and not backing down from his physical play.
They came together after one hard foul from Leonard that caused Gasol to cock back and make a fist, almost exactly like DeMarcus Cousins did a few weeks ago. The subsequent replay review resulted in a double-technical for both players. But unfortunately for viewers who wanted to see the battle continue all night long, Gasol re-injured his sore right foot only a few minutes later. Gasol would not return, changing the type of game that both teams were playing.
The Grizzlies subsequently went small after halftime and the Blazers followed suit. It was fortunate for the Blazers that they got Allen Crabbe back into the line-up, which allowed them to stick with the Grizzlies reserves a little bit better. The Grizzlies started Jeff Green in Gasol's place to start the second half and the Blazers answered with Moe Harkless in Leonard's place. But despite the changes in personnel, the game remained tight throughout.
Lillard carried the Blazers offensively with one of his more efficient shooting performances of the year. He had 20 points on nine shots in the first half, but he didn't have much help from his fellow starters until McCollum got going late.
Once again, the bench and Henderson delivered. I wrote about Henderson and the Blazers bench for Monday's Columbian and they showed once again that they're a force to be reckoned with thanks to their talent and versatility. Davis got the call to finish the game down the stretch and was the only Blazers who seemed to bother Randolph.
In addition to McCollum fighting through a tough shooting night, he and Lillard, both with five fouls early in the overtime, managed to make an impact on the game without getting disqualified. McCollum had a big time steal on Conley in the fourth quarter and a few tough jumpers on "The Grindfather," Tony Allen whose tricks stopped working at some point in the 4th quarter.
The Blazers have one more game before the All-Star break with a chance to get to .500 and gain more ground on the malaise-infested Rockets on Wednesday in Portland.
Notes
Tim Frazier got the call again for the Blazers off the bench. I don't think there is too much to read into this. Crabbe is back but Vonleh is still out and the Grizzlies went with more guard-heavy looks as soon as they lost Gasol for the game. It seemed like a match-up play, but good for Frazier to get some minutes after being relegated to towel-waving most nights.
The Blazers are 1/2 game behind Utah who are in 8th and a game behind Houston who are currently in 7th.
There's only a few days left in the trade deadline and anything could happen. Gerald Henderson is still probably the most likely player to be traded, but my goodness has he helped the Blazers. He's really started to find a groove offensively and his defense alongside Crabbe's is more solid than most opposing benches could hope for. If they keep this up, they're probably going to be a playoff team.
Leonard really has a knack for getting under opposing center's skin. DeMarcus Cousins, Greg Monroe and now Marc Gasol. His size is perfect for bodying up guys who post-up a lot and his shooting drags people away from the rim. The Blazers have also made a conscious decision to have him guard centers more when he's in the game. In his fourth year, the Blazers are still learning the best ways to use one of their most unique weapons. Leonard only played 13 minutes but they were pretty memorable.
Al-Farouq Aminu is probably a little undervalued now at this point. He's finally hitting 3-pointers this year at a solid rate but he unlocks so many things for the Blazers with his versatility. Playing him at power forward is a situation in which he thrives and he did a lot of that tonight, logging 40 minutes.