The Scouting Report: at Memphis Grizzlies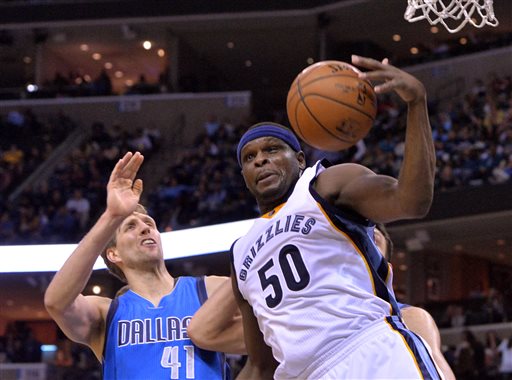 Projected starting line-up: Mike Conley, Courtney Lee, Tony Allen, Zach Randolph, Marc Gasol
Remember the last scouting report when I wrote about how we may have seen the last of the Memphis Grizzlies as we knew them? Well, just around the last time we saw the Grizzlies was when they started to play their best basketball of the season. And Grit 'N Grind is not dead. Sorry for steering you wrong.
Zach Randolph and Tony Allen are back in the starting line-up and all of a sudden, they're winning again. Beginning with their Jan. 4 meeting with the Blazers in Portland where they delivered a throwback performance that reminded of their playoff dominance in last year's first round, they've gone 12-4 over their last 16 games.
However, that was Damian Lillard's first game back in the starting line-up after missing several weeks with plantar fasciitis and it wasn't a seamless return. Lillard struggled to find a rhythm immediately after injury and didn't really regain his rhythm until a few days later. But the Grizzlies deserved credit for stepping up their play from the last two meetings. And while many including myself thought that this would be the year things crumbled in Memphis, they've showed that their bruising style of play can still win.
The Grizzlies have played top-ten defense since the meeting back in January but their offense has been just as good, if not better over that stretch. Joerger's rotations have changed depending on the opponent but a key player in this match-up against the Blazers is Mario Chalmers.
Chalmers instantly upgraded their perimeter defense, especially their defense against point guards. He allows Conley to rest or move off the primary ball-handler. His presence definitely helped the Grizzlies in the match-up against Portland because Lillard and McCollum torched them in their first meeting in November. The Grizzlies as a whole have played better but the addition of Chalmers is one that's helped them overall and against Portland. In two games against the Blazers, Chalmers is a +24.4 per 100 possessions according to NBA.com.
Zach Randolph will still bruise the Blazers down low and Marc Gasol's high-post game will cause problems if Portland's wing defenders aren't awake looking for backdoor cuts. Conley has always caused problems for the Blazers and containing him is nigh impossible. If the Blazers are to have any hope, they have to break free offensively against the Grizzlies but also maintain the defensive improvement that's made them a top-ten unit over the last month.