The Scouting Report: at Houston Rockets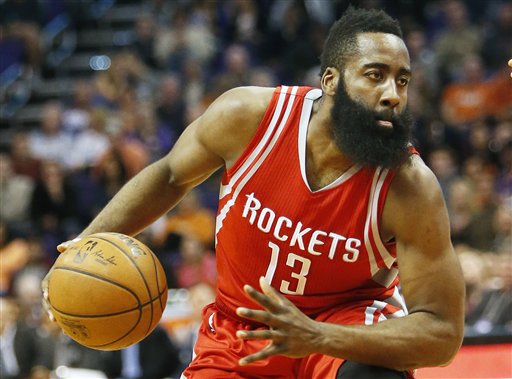 Projected starting line-up: Patrick Beverley, James Harden, Trevor Ariza, Corey Brewer, Dwight Howard
Injuries: Donatas Montiejunas (back), Terrence Jones (concussion)
The Houston Rockets, by most accounts, have been a disappointment this season. Or maybe, last year, they just overachieved? Whatever the reasons, the Rockets surprisingly find themselves rubbing elbows with fringe playoff teams.
It started at the beginning of the season with a terrible start to the season thanks to awful defense. It didn't help that James Harden showed up more or less out of shape and saw his defense regress. Last year he was coming off a summer playing with USA Basketball and being one of the team's most important players. He didn't look to be in quite as good of shape to start the season and that hurt the Rockets.
One of the reasons that Houston was so good last season and why Harden was an MVP candidate was their strong defense for most of the season. Harden was also on a whole other level offensively. He's still drawing fouls more than anybody else in the league and is still one of the highest usage players in the league. In fact, Harden is soaking up an even greater percentage of his teams possessions this year, according to Basketball-Reference.
The Rockets took a risk in the summer by adding Ty Lawson and his addition to the starting line-up was mostly a failure. To say he's looked good in his role off the bench would be a bridge too far but he clearly is of more use to the Rockets in that role. Patrick Beverley has proven over the past few seasons that he's the ideal compliment to Harden in the backcourt.
Houston also did well to add Josh Smith after his move to the Clippers failed to materialize in a consistent role. He was a huge factor in their playoff success down the stretch and his passing gives the Rockets something they desperately lack with the power forwards who were tasked with replacing him.
You can never count on the Rockets to make a move as we get closer to the trade deadline and this could be a year where they desperately need a jolt. There have been a handful of Dwight Howard rumors as he can be a free-agent next season. But it would be interesting to see if the Rockets really part ways with him when he played so well during the playoffs last season, albeit on a bum knee.
This game should be a fun game if you're not a big fan of defense. The Rockets are 25th in defensive rating and the Blazers are a little bit better, ranked 19th. The show  (a 2 p.m. matinee) will be the backcourts for each team and the points are going to come in bunches.