Sources: Blazers guard CJ McCollum selected to be in NBA All-Star Weekend Skills Challenge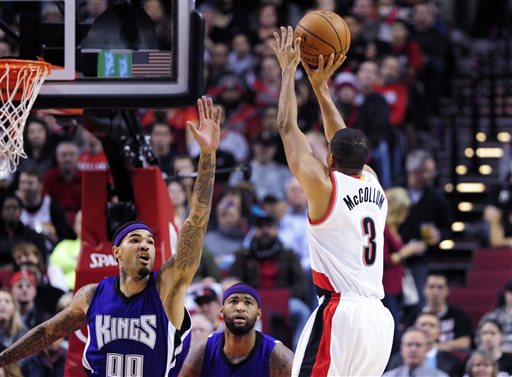 Portland Trail Blazers guard CJ McCollum will be one of the many players selected to compete in the Skills Competition at All-Star Weekend in Toronto, Feb. 13, according to league sources.
McCollum is in the midst of a career season and an invitation to participate in NBA All-Star weekend no doubt is a sign that league has taken notice of his accomplishments this season. McCollum is averaging 20.9 points per game, 4.6 assists and 3.5 rebounds and a 51 percent effective field goal percentage.
McCollum was asked about the possibility of being involved in the All-Star festivities earlier this season.
"I'm still waiting on the call," said McCollum, who has plans to be in Toronto over the weekend anyway to attend player's union meetings. "I haven't gotten any calls for skills, 3-point shooting or anything. If they are looking for someone that's already going to be there … I should be in the skills too."
The Skills competition is part of the NBA's All-Star Saturday festivities which include the dunk contest and 3-point shootout. Not part of the festivities this year: the shooting stars competition. We will always remember the great run of Team Bosh.
The rest of the field for the skills competition and the 3-point shootout are expected to come out soon.
McCollum will also have some friends next to him Saturday. Our friend Chris Haynes of the Cleveland Plain Dealer reported last night that former Blazer and current Denver Nuggets swingman Will Barton will participate in the dunk contest along with Zach LaVine, Andre Drummond and Aaron Gordon.
McCollum will be participating in an expanded field in the Skills Challenge, which will include big men for the first time including Sacramento's DeMarcus Cousins, New Orleans' Anthony Davis and Golden State's Draymond Green.
Houston's Patrick Beverley is the reigning champion of the Skills Challenge.
Boston's Isaiah Thomas and Lakers guard Jordan Clarkson round out the field.