The Scouting Report: Toronto Raptors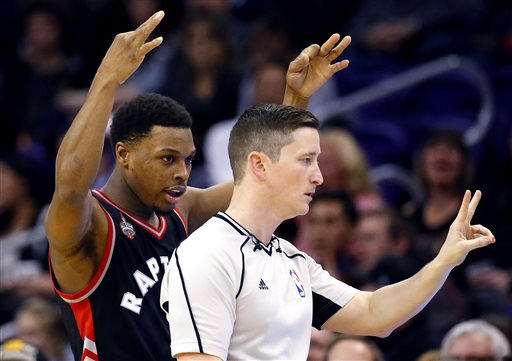 Projected starting line-up: Kyle Lowry, Norman Powell, DeMar DeRozan, Luis Scola, Jonas Valanciunas
Injuries: James Johnson, DeMarre Carroll
The Toronto Raptors exist in a space unique to themselves in the Eastern Conference. They're not considered, at least not yet, to be a real contender to knock off the Cavaliers and stop LeBron and co. from going to his sixth straight NBA Finals.
At 33-16, the Raptors are four games back of the Cavaliers in the loss column and have kept up an excellent winning percentage despite injuries to key players. DeMarre Carroll has been battling injuries for the last two months and has missed the last 13 games due to injury. Making matters worse for the Raptors, they've recently lost James Johnson for who knows how long.
Carroll's injury has robbed the Raptors from being able to see what else they can do with him as the small forward or even in smallball situations. The Raptors signed him to a 4-year, $60 million deal, so they'll have plenty of time to find out what they have.
The backcourt is something they can count on nightly and everyone knows that, as evidenced by both players being All-Star selections. Lowry was selected as a starting guard in the East for a second consecutive year (he didn't even need Justin Bieber to tweet for him!) and DeRozan has been having a career season.
DeRozan is Harden-esque in his ability to draw fouls off the dribble, because he can mostly get to the basket any time he wants. He's averaging over 23 points per game, which is a career high. He's also in a contract year and can opt out of the final year of his contract after this season. His game is almost like that of a big man in that he is scoring over 20 points per game while attempting fewer than 2 3-pointers per game. The only other players in the league who are doing that are Anthony Davis, Blake Griffin and Brook Lopez.
But an underrated key to success for the Raptors this season has been the play of their bench. Portland's bench has played well for most of the season, but the Raptors are going to be arguably their toughest test yet. Cory Joseph is going to give both Blazers point guards trouble with his straight line speed coming off the bench. After years of developing within the Spurs system, he's a pick and roll monster and is going to get into the paint. Bismack Biyombo has looked like a steal since coming over from Charlotte as a back-up center and Patrick Patterson has been a solid rotation player for most of his career.
The Blazers are going to be tested like they haven't been in quite a few weeks. It will be interesting to see if all of their improvements over that time will hold up when the competition is stronger.