The Vertical: Blazers G Allen Crabbe on opposing teams radars ahead of free-agency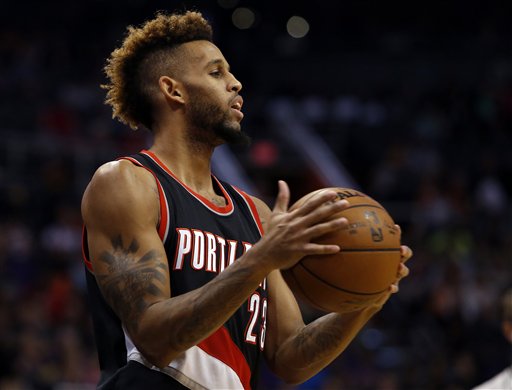 I've been saying it since the first month of the season: Allen Crabbe is going to get PAID. Listen, I know it's not exactly a bold prediction, especially after seeing the money that two-way wings got on the open market last season.
Enter Bobby Marks of The Veritcal, Adrian Wojnarowski's new off-shoot in collaboration with Yahoo! Sports, listing Crabbe as the free-agent on opposing teams' wish lists this July.
The restricted free agent has had a breakout year for the young Trail Blazers. The 23-year-old has seen his minutes double from last year and has been a key rotational player for Portland. Once thought of as a developmental project, he's now turned into a possible Sixth Man of the Year candidate.

Crabbe will have full Bird rights this summer with Portland having the ability to match any offer sheet that comes his way.
The discussions about Meyers Leonard's free-agency and contract extensions dominated the early season. And while Leonard is going to be a priority, the Blazers are in a good position with he and Crabbe that the Blazers have the ability to match and bird rights on both, in case they end up going over the cap.
This is when the descending contracts of Al-Farouq Aminu and Ed Davis could be big money savers for the Blazers. Crabbe is likely going to get the larger offer of the two, given the premium on wings in the NBA and almost every team looking at their roster and seeing they don't have enough. Portland has the option to match as he is a restricted free-agent, but it's likely going to cost them.
The Blazers also could negotiate an extension with CJ McCollum over the summer, which is almost certainly going to cost more than Crabbe's.
Crabbe also brings a lot more than the "3 and D" label would lead you to believe. He's a more dynamic scorer than the likes of DeMarre Carroll, who earned a 4-year $60 million deal from the Raptors. Although Crabbe doesn't have the size to play power forward, his scoring ability and length on defense make him an invaluable piece to a winning team. He's also shown more comfort creating for teammates in pick and rolls, something that isn't reflective in his assist percentage, but is a more anecdotal observation after having watched him over his Blazers career.
He's also one of the best midrange shooters in the league, a skill that's becoming more valuable as teams try to eliminate the 3-point line, allowing him to break down defenses when they close out on him.
In addition to his 38 percent 3-point shot, Crabbe is one of the top-20 players in the league in terms of 2-point field goal percentage. He is also shooting a devastating 60 percent on shots from 10-16 feet according to Basketball-Reference, where 10 percent of his shots come from. He's also connected on 45 percent on long-twos, from 16-feet and beyond.
So, to say that he's just a 3 and D guy is selling Crabbe a little bit short. But his next contract should more than make up for it.