The Scouting Report: Milwaukee Bucks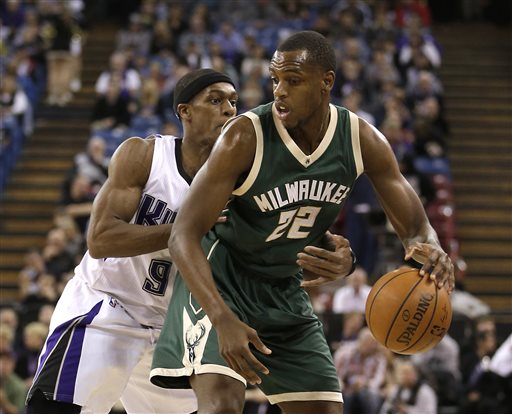 Projected starting line-up: Michael Carter-Williams, Khris Middleton, Jabari Parker, GIannis Antetokounmpo, Greg Monroe
The Milwaukee Bucks were on a promising path this this time a year ago. Now, their rebuild has stalled and while they've played better basketball as of recent and have a win under their belts over the 44-4 Warriors, they're still a long shot to make the playoffs.
The Bucks were built on a stifling, trap-heavy and active defense that thrived on the length of players like Antetokounmp and Middleton. Jared Dudley served as the lynchpin at power forward that allowed the offense to have a little room to breathe and John Henson continued improving as a shot blocker.
Then, the deadline came and Brandon Knight was shipped to Phoenix. The Bucks got 2013 Rookie of the Year Michael Carter-Williams in return, but the offense for the Bucks has never been the same. Their offense was never anything to write home about, but after Knight left they lost one of the few shotmakers they had on the team.
An impressive playoff performance where they took the Chicago Bulls to six games helped put the otherwise disastrous end to the season in a more flattering light.
In the last game between these two teams, the Blazers had one of their more epic self-destructions, blowing a 4-point lead with under 30 seconds left. OJ Mayo hit a huge 3-pointer and then the Bucks scored the go-ahead bucket off a jump ball. Meyers Leonard had a floater blocked at the end of the game by John Henson, which was followed by a two-week shooting slump for Leonard. It was a weird win for the Bucks but it was totally characteristic of the Blazers at the time. The Blazers have been better at holding leads lately and if this one is close, it will be interesting to see if they can exorcise their demons against the Bucks.
The Blazers must contain Greg Monroe in the post, who may be their best offensive player. He's not a solid rim protector, but the length of players like Antetokounmpo can make up for Monroe's defensive flaws. Monroe is not a perfect player, but the Bucks need him if they are going to have any hope of scoring. Jabari Parker has only attempted six 3-pointers this season although he was projected as their best hope to be a front-line scorer when he came into the league.
Middleton is the best shooter on the team and although Mayo hit big shots against Portland in the last meeting, Middleton is the man to watch if this game gets close.