The Scouting Report: Charlotte Hornets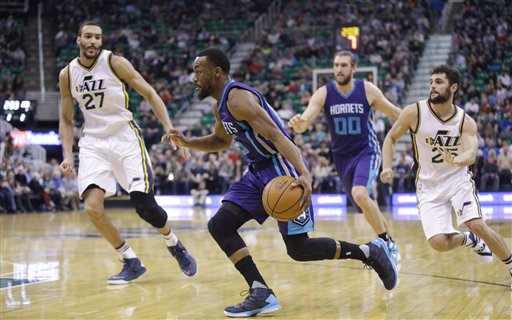 Projected starting line-up: Kemba Walker, Nicolas Batum, P.J. Hairston, Marvin Williams, Spencer Hawes
Injuries: Micheal Kidd-Gilchrist and Jeremy Lamb are questoinable. Al Jefferson, Cody Zeller and Jeremy Lin are out.
The Charlotte Hornets were one of the league's most pleasant surprises at the start of the 2015-16 season, mostly in part to the play of former Portland Trail Blazers Nicolas Batum. But health for Batum and a great deal of his teammates has slowed down what has otherwise been a re-invigorating campaign.
The Hornets, when they were the Bobcats, were one of the most surprising teams in the Eastern Conference two seasons ago. But Josh McRoberts left in free agency and leaning on Al Jefferson's post game no longer became a reliable strategy. The Hornets have moved to a more dynamic, perimeter-oriented offensive attack and have added more mobile big men who can shoot rather than Jefferson's methodical post game.
Jefferson has been injured, but the injuries to Batum have hurt the Hornets most. The Hornets are outscored by 1.6 points per 100 possessions when Batum sits, which is the biggest deficit on the team. The Hornets as a unit are pretty deep and have a lot of guys at all positions who range from decent to good. Luckily for the Hornets, they've gotten Batum back, who returned on Wednesday although it came in a loss.
Michael Kidd-Gilchrest's return is imminent and could come Friday as he's listed as questionable, which is a 50-50 shot. Regardless of when, it will be interesting to see how the Hornets adapt him into their attack. And I'm sure the Blazers wouldn't mind if they tried to re-integrate a player who hasn't played all season against them. MKG is an excellent defender who gives them probably their best option against the LeBron's, Jimmy Butler's and Paul George's of the world but he's a notoriously bad shooter. They've flourished with Batum in his place and it will be interesting to see how he fits in. There's no doubt he will present them with some interesting options in terms of line-ups and perhaps the creation of Batum will allow his skills to flourish.
Amidst the injuries, Kemba Walker was risen above the fray. He had a 52-point game 10 days ago against the Utah Jazz. Friday will be a battle between two of the best players in the league who were not named to the All-Star team for either conference. And if Lillard and Walker want to give us a duel, nobody would say no.
The Blazers have to contain Batum who is a match-up problem for a lot of teams and killed the Blazers for 33 points. He can post-up and create on the pick and roll for himself and teammates. He's still crafty with the ball and has career-high in assist percentage, giving them creation on par with Walker.
The Blazers will have a tough task on their hands and the Hornets are a well-coached team who should bounce back well after being blown out by the Jazz in Utah last night.