Broken hand suspected for Blake Griffin after altercation with Clippers employee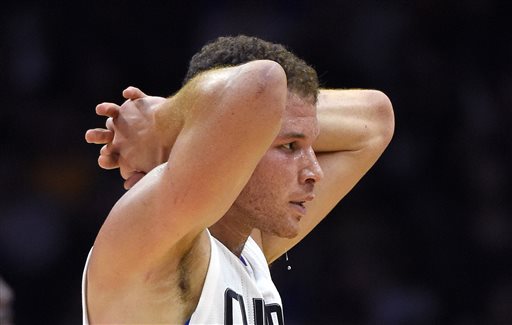 The return of Los Angeles Clippers power forward Blake Griffin will have to wait after an alleged fight broke out between he and a team employee at a Toronto restaurant. Reports indicate that the Clippers fear Griffin has suffered a fractured hand which would keep him out for a few more weeks and presumably through the All-Star break.
According to the person, Griffin and a member of the team's equipment staff were both sent back to Los Angeles following the incident. Griffin, who has been out since Dec. 26 with a torn quadriceps, is likely to miss several more weeks with the hand injury.
The equipment staffer's face was injured, sources told Eaves. Both Griffin and the equipment staffer were sent home after the incident.

Sources told ESPN that the hand injury is expected to keep Griffin out "a matter of weeks, as opposed to days."
Obviously, this story is a big deal on a lot of levels, the first of which is Griffin, star player and massive person, getting in a physical altercations with an equipment manager. Luckily it sounds like the staff member involved is okay. According to Arash Markazi of ESPNLosAngeles.com, Griffin and the staff member are good friends. REAL FRIENDS.
Obviously this impacts the basketball too. The Western Conference will be decided by the Spurs, Warriors and maybe Thunder, but with Chris Paul in his 11th season, it would seem that time is running out on this Clippers group to make a run after being ousted in the second round two years in a row. They're clearly in a lower tier, but it's also fair to wonder if this team will ever have a shot to make it out of the West. Paul and DeAndre Jordan have kept the Clippers humming along but they need Griffin, undoubtedly their best player, for the long haul.
And as it relates to the Blazers, I'm sure many, as I did, saw the news as a boost to Damian Lillard's All-Star chances. Then I pumped the brakes a little bit. There is no doubt that removing a player from the available pool helps Lillard's odds but Griffin has missed 1/4 of his team's season so far, so perhaps he may have been passed over anyway.
Players like Klay Thompson, Dirk Nowitzki, Anthony Davis on a horrible Pelicans team or possibly LaMarcus Aldridge (unless any of the coaches wanted to watch Warriors-Spurs before voting) are players that could still prevent Lillard from getting on the team.
Coaches ballots for the All-Star reserves must be turned in by Tuesday. The results of that voting will be revealed before this week's TNT doubleheader.