The Scouting Report: Sacramento Kings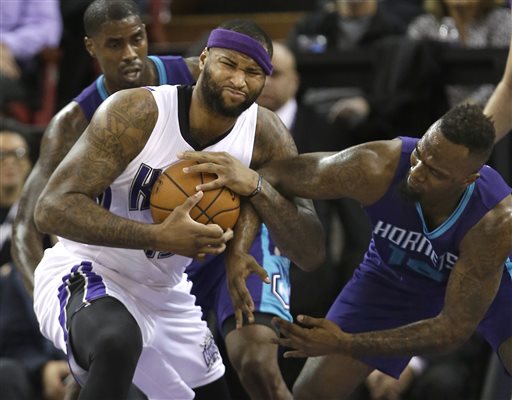 Projected starting line-up: Rajon Rondo, Darren Collison, Ben McLemore, DeMarcus Cousins, Willie Cauley-Stein
Injuries: Rudy Gay (eye) OUT
It's the end of January and just like we all had planned, the Sacramento Kings come to Portland for a game with playoff implications. Will someone tell this weird Western Conference season to stop being so beautiful? The Kings enter Tuesday's match-up with a one-game lead over the Blazers for the 8th seed in the Western Conference.
The Kings have been playing their best basketball as of late after shaking off a brutal stretch towards the end of December which included a home loss to Philadelphia, granted without Cousins. They had a five-game winning streak snapped on Monday in a brutal double overtime loss to Charlotte.
"Without Cousins" is a huge deal because he may be the most unique force of nature in the league. Nobody carries a bigger scoring load in the league as Cousins has an NBA-high 35.5 percent of his team's possessions. The next-closest person on the list is Russell Westbrook at 33.2 percent.
When you look at the construction of the Kings roster and how much of a monster Cousins is, it's no wonder why they go with that strategy. He's been incredible in the last two games, scoring 48 points in their win Saturday night over a solid Pacers team which he followed with a ridiculous 56-point night in their 129-128 double overtime loss to the Hornets.
In the last meeting between the two teams, the Blazers didn't have Damian Lillard or Ed Davis and CJ McCollum carried them to a victory with a near triple-double and 35 points. But Meyers Leonard was big in that game and so was Portland's small ball line-up. And the fact that the Kings offense is so Cousins-centric actually helps Leonard be more effective.
With Rondo and Cousins controlling so much of the action, there's not as much movement with the Kings offense as there are with most other teams in the league. And while can give smaller teams problems, that allows Leonard to be more effective by being able to focus on guarding Cousins on the block. Without having to cover relentless backside actions and cover pick and rolls, he can use his 7-1, 245 lbs frame to withstand Cousins' battering ram on the block. Forcing Cousins to guard Leonard out at the 3-point line will also force him to expend more energy.
Davis is available and Stotts will almost certainly be less likely to go with four smaller players and Leonard at center with a full compliment of options. Allen Crabbe also turned an ankle in that game, so I'm not sure we are going to see the same line-ups present themselves. But perhaps the best way to slow Cousins down is to force him to work harder on the other end of the court.
Mason Plumlee has probably been Portland's third-best player this season, but his style of play, pass-first, score-second, will make Cousins work very little on the defensive end.
Also, it will be interesting to see how Sacramento's two-point guard line-ups with Rajon Rondo and the speedy Darren Collison work against the Blazers with Lillard back in the fold.
Rondo has also been having a renaissance season with his performance on the court. He's the NBA leader in assists and just put up a 20-assist night against the Hornets Monday. He presents issues, like Cousins, that are truly unique to him. His quirks with the dribble and the way he sees plays make him a difficult cover even if his jump shooting does not.
The addition of Willie Cauley-Stein has brought more athleticism and energy to the defensive end of the court for the Kings. He's a long, active defender who is using his physical gifts the right way. Offensively, his best asset is dunking and not very much else. He had a game-winning dunk in their double-OT win Monday. On this team, it's Cousins first and then everybody else.