The Scouting Report: Los Angeles Lakers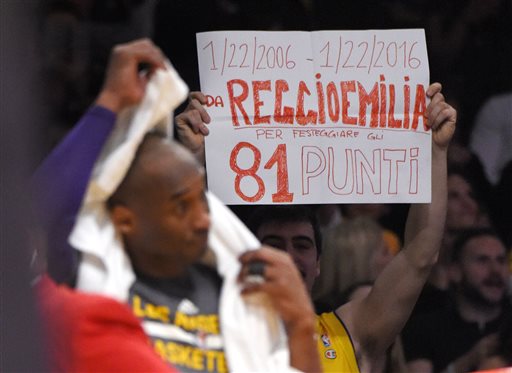 Projected starting line-up: Jordan Clarkson, Lou Williams, Kobe Bryant, Julius Randle, Roy Hibbert
Injuries: Larry Nance Jr. (sore right knee)
After playing just 27 minutes Friday night in the Lakers home loss to the San Antonio Spurs, Kobe Bryant will still reportedly play against the Portland Trail Blazers Saturday night in his final appearance in the building, known as the Rose Garden for most of his career, now known as the Moda Center.
There were times that Bryant thrashed the Garden with pleasure, but those times are but a memory now. And this season has been about Kobe and the signs of gratitude, remembrance and fare well to the player that he once was. They've become a reality show tracking his farewell tour that me and my buddy Sean Highkin of the Bulls vs. Blazers NBA Podcast call "The Real Lakers of Los Angeles."
Blazers reserve guard Gerald Henderson wrote about the first time he guarded Kobe in The Player's Tribune this week. Damian Lillard waxed poetically about the night he and Bryant went toe-to-toe when he was a rookie after Friday's practice.
[youtube http://www.youtube.com/watch?v=d4J1zfk87f0]
CJ McCollum shared an embrace with him and Luis Montero talked a little trash to him. The most interesting thing about tomorrow will be how the Blazers crowd receives Bryant after he tortured Blazers fans for years.
The Lakers as a team present some weird issues for the Blazers. The Blazers are clearly the better team, but the Lakers do have some interesting pieces coming off their bench, namely D'Angelo Russell. While the presence of Lillard or McCollum on the court at all times should more than neutralize Russell, he's probably their best player whenever he gets a chance to show it. Even if Lakers fans prefer Jordan Clarkson, the moments that Russell has shown show why he was taken with the No. 2 overall pick over Jahlil Okafor and Kristaps Porzingis.
Julius Randle is an excellent athlete and the Blazers need to find him in transition. He has a slight advantage over Noah Vonleh if Portland can minimize that they'll have a lot of success. Meyers Leonard's shooting ability should also present issues for the Lakers bench players, or if Stotts elects to play him at center when Roy Hibbert is on the court.
The Lakers have lost five straight games and have a 4 1/2 game cushion for last place in the West as they look to keep their lottery pick, which is top-three protected. If they somehow go on a win streak or get jumped in the lottery their pick will go to Philadelphia, who acquired it from Phoenix at the trade deadline last summer.
The Blazers have won the other two meetings against the Lakers this season by an average of 13 points per game.