The Scouting Report: Atlanta Hawks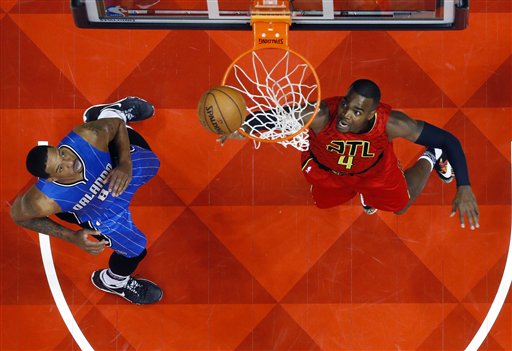 Projected starting line-up: Jeff Teague, Kyle Korver, Kent Bazemore, Paul Millsap, Al Horford
The Atlanta Hawks hare just hanging around at the top of the Eastern Conference with hopes to snag the conference's No. 2 seed. The Hawks figure to be jockeying for position for the rest of the season for that 2nd spot in the East next to Cleveland against teams like Toronto and Chicago. After winning 60 games last season, the Hawks still know who they are, but they've had a lot more obstacles in their way to success this season.
The trade of DeMarre Carroll changed things for the Hawks slightly, but like Carroll before him, Kent Bazemore has emerged as a solid two-way player in a bigger role. Bazemore is probably a superior athlete to Carroll, which helps make up for the fact that he's a little lighter and three inches shorter. Still, Bazemore gives the Hawks what they need on the wing which is defense, shot-making and the ability to capitalize on mistakes the other team makes. He's shooting 41 percent from long-range this season and is a good bet to be a target for Atlanta's playmakers.
The Hawks are a unique team in that their big men are not only gifted scorers but creative forces that lead to opportunities for their teammates. The Blazers have long had issues with Millsap and Horford because of the match-up problems their skillsets create. Millsap can take smaller wings into the post to create openings and he's a terror as a screener in pick and rolls with his ability to shoot and pass. Horford is a problem in the low-post, but the Blazers also cannot allow him too much space from the midrange.
Teague is their main creator and someone who has also given the Blazers problems in the past. The constant motion of the Atlanta offense creates openings and a lot of times it's Teague's job to make those openings count.
Looking to the last meeting between these teams for an informed opinion about how Wednesday's game will play out isn't really doable. The Blazers were without Damian Lillard and CJ McCollum and Tim Frazier played all but 25 seconds of the game in a 106-97 loss on Dec. 21. It was one of those games where the Blazers admirably punched the clock in a game that they had no chance of winning.
Wednesday should be a more competitive game. The Blazers have lost three straight to the Hawks.