The Scouting Report: at Washington Wizards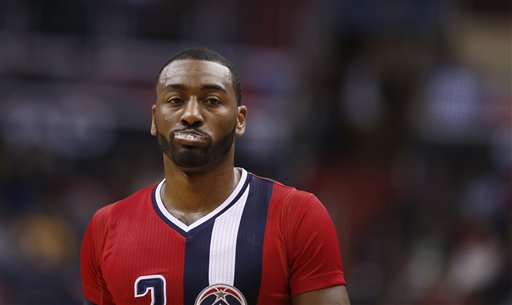 Projected starting line-up: John Wall, Garrett Temple, Kelly Oubre, Jared Dudley, Marcin Gortat
Injuries: Bradley Beal (stress reaction, moved to bench because of minutes restriction), Otto Porter (hip, questionable to return Monday)
The Washington Wizards have been one of the league most disappointing teams halfway through the season. They looked like a good bet to knock off the Hawks in the second round last year before John Wall broke his hand. Although Wall came back, the Wizards were never the same. But despite losing the aging Paul Pierce, who was instrumental to their playoff success, in the offseason, people were expecting a leap from the Wizards.
So far this season the Wizards are slipping and talk of Kevin Durant potentially coming home to D.C. has quieted amidst a sobering first half of the season. Coming into Monday's game against the Blazers at 19-20, the Wizards are just 10th in the Eastern Conference after not just making the playoffs but winning a round in each of the last two postseasons.
The number one action the Blazers will have to concern themselves with is John Wall in transition. He's extremely good at getting out in the open court but the Blazers have to limit chances when the Wizards can get easy buckets. The other major concern for the Blazers with regards to Wall is the pick and roll with he and Marcin Gortat.
The acquisition of Jared Dudley to play the part of Pierce as the team's smallball frontcourt option hasn't gone as well as they'd imagined. Randy Wittman has even tried to get crazy with super small line-ups with Dudley at center. It'll help the Blazers if the Wizards don't have Otto Porter, who helps defensively and is a decent 3-point shooter. Porter is a part of Washington's best line-ups and a key to their new smallball identity.
Bradley Beal is back from injury but his return came with some concerning caveats. He'll reportedly have to deal with a minutes restriction for the rest of his career but right now it seems like his pitch count is in the mid-20's. He played 22 minutes but still managed to score 22 points. With Beal being hamstrung by injury, the Wizards are making best use of his situation by unleashing him with second units. In his last game against the Celtics he had a usage rate of 32%.
Rookie wing Kelly Oubre has gotten a chance to play real minutes and has worked his way into the starting line-up. The lefty out of Kansas has been an excellent shooter so far this season, hitting almost 40 percent of his 3-pointers. At 6-7 he also brings solid size and length on the defensive end, which should one day turn him into a solid overall player.
The Wizards can still make the playoffs and Wall is one of the best guards in the game. Where the Wizards are is really no fault of his own.