The Scouting Report: at Philadelphia 76ers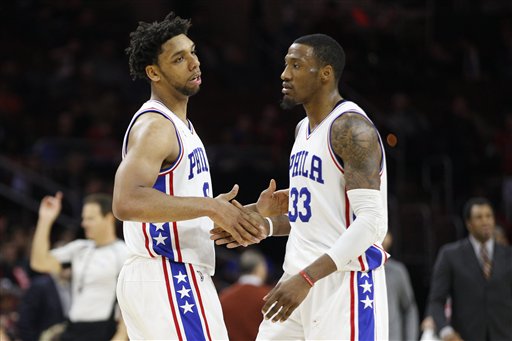 Projected starting line-up: Ish Smith, Nik Stauskas, JaKarr Sampson, Carl Landry, Jahlil Okafor
For the third season in a row, the Philadelphia 76ers are throwing away the season as to maximize their odds of getting the number one pick in the upcoming NBA draft. This has perhaps been the most interesting season of The Process, which has involved stories of Joel Embiid allegedly drinking pitchers of Shirely Temple's, Okafor getting in fights in Boston and the hiring of Jerry Colangelo has an "advisor," which seemingly took power away from architect Sam Hinkie.
The Sixers have sucked for seasons but have done so while accumulating assets and getting a lot of media attention for it. The Nets are begging for this type of attention but don't have the assets to show for it. And after giving up some of those spare parts for Ish Smith, a player they used to have on their roster, they've looked a little bit better.
They had the worst group of guards in the league and were starting rookie TJ McConnell at point guard who wasn't impressing many NBA scouts. He is at least a point guard, but after him the 76ers probably didn't even have a real NBA point guard. Isaiah Canaan is a point guard by a function of size only and is not a very good passer. Stauskas is more of a 2-guard.
The Sixers also added Mike D'Antoni to their coaching staff which has helped open things up. Their point guards are working the baseline more and getting lower in pick and rolls to create problems for the defense. At least that's what it looked like when they played the Bulls on Thursday. Smith is a good guard offensively but gives up a ton defensively, as we saw when he was starting at point guard for the Pelicans earlier this season.
Nerlens Noel is a beast defensively and win transition. Okafor has good handles for a big man his size and is a threat to score. Robert Covington takes 61 (!) percent of his shots from behind the 3-point line, so the Blazers must keep an eye on him behind the arc.
The 76ers need six more wins to assure themselves of avoiding the worst record of all time. A Blazers victory would be their fourth in a row and be their longest win-streak of the season.