Trail Mix: Praise for Blazers system, Plumlee talks Brooklyn return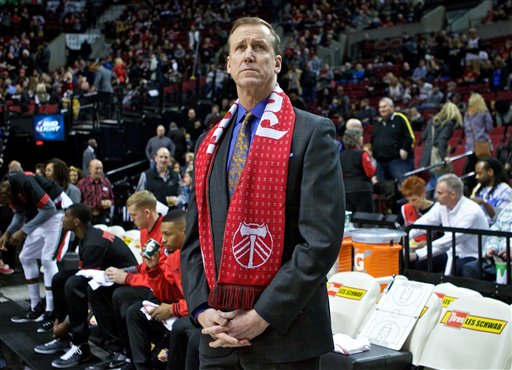 Happy Friday of Martin Luther King Jr. Weekend, everyone. The Trail Blazers are on the road for the next three games beginning this evening when they'll face the Brooklyn Nets in the first leg of this year's Gentrification Jump Off. It's also the Mason Plumlee revenge game! Thomas Robinson revenge game! So many revenge games! Anyway, here's a sampling of what the internet said about the Blazers this week.
I tried to find the two articles that most disagreed with each other to start this off. It was pretty easy this week, I have to admit. The source of the disagreements? Well, perhaps we can call it disagreements on team-building philosophy.
John Canzano of The Oregonian opined that the Blazers should explore trades for CJ McCollum in the hopes of trying to make the playoffs this year. He cited Portland's poor defense with them together and that the Blazers must do something big to get back to relevance.
Meanwhile, Rob Mahoney of SI.com praised the duo of McCollum and Lillard, as well as Terry Stotts and the front office, for legitimizing the Blazers rebuild almost immediately. He praised the balance that the Blazers dynamic duo brings offensively that most teams would crave.
Now, it's not that Canzano doesn't have a point, because he does. Not long ago, even the smartest basketball analysts were suggesting the Golden State Warriors had failed by not giving up Klay Thompson for Kevin Love. And while Thompson is a defensive beast, at least the Warriors saw him for enough time to know what they had. McCollum has been playing as a starter for less than half a season and thus far, the Blazers haven't been as good defensively as they need to be.
However, had we not had the suggestion to trade McCollum we wouldn't have had this epic fail from a Bleacher Report writer who read, both way too much and not enough, into McCollum "liking" the take he should be traded.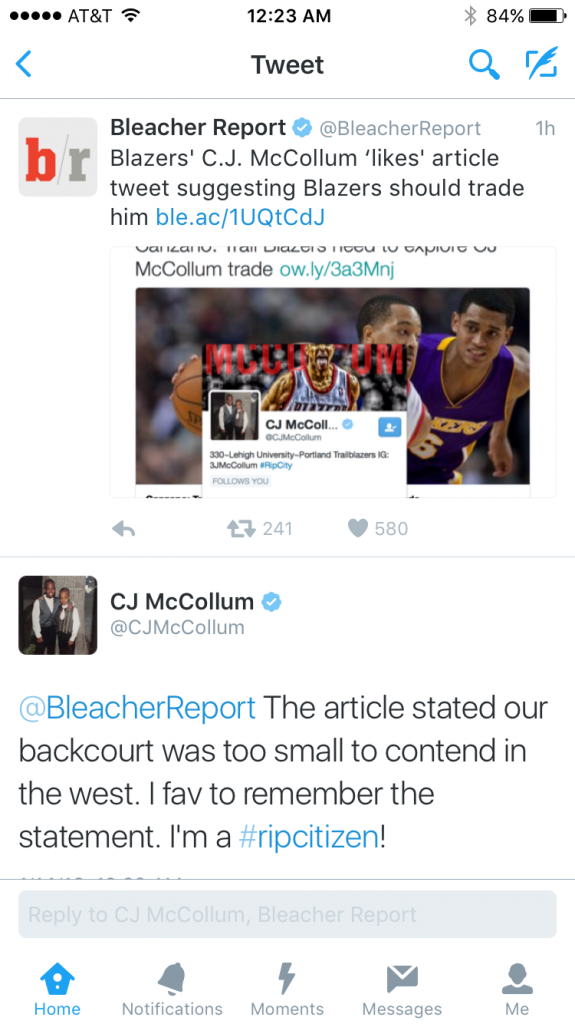 Growth is a measurable concept in the NBA because, unlike sports like the NFL (except quarterbacks), players are around long enough to improve. And secondly, as I commented in the latest Blazer Banter podcast, saying their defensive issues are bigger than the size Lillard and McCollum give up on the perimeter. Plumlee is young and, while smart and athletic, a gambler who gives up easy buckets too often. Noah Vonleh's addition to the starting line-up coincided with a drastic improvement on the defensive end but his youth and inexperience shows quite often on both ends of the floor. Meyers Leonard has the team's worst on-court defensive rating. Allen Crabbe has great defensive instincts but still sometimes doesn't play all the way through plays and gets caught watching.
There's a lot of things wrong with this team defensively and unless you're LeBron's Miami Heat or the KG-Pierce-Allen Celtics, you're not going to develop defensive excellence immediately. Almost all of Portland's front end players are also on the opening stanza of their careers, which cannot be said for the players on teams that developed played excellent defense immediately. This story about how long it took Memphis to become a good defensive team illustrates how hard it is. But if they aren't improving over the course of the season then those who say the scheme isn't working or that they aren't good at defense will have more ammunition.
The Blazers need help, but that help could easily come via other trades and without sacrificing more future first round picks. Such a move just to get the 8th seed? Great, then you're the team the Blazers are facing Friday night with no future picks (no hope) and no real success, other than getting swept by the Warriors, to show for it.
Speaking of the team the Blazers play Friday, Mike Richman of The Oregonian caught up with Mason Plumlee ahead of his first match-up against the Nets, where he played for two seasons. If you didn't read through it, Mahoney's Sports Illustrated piece on the Blazers also has a significant chunk in there dedicated to Plumlee, where I learned that someone made a YouTube compilation dedicated to Allen Crabbe's movement off the ball.
Neil Olshey on The Vertical Podcast with Adrian Wojnarowski
Olshey talked about his background coming up in New York City, playing college lacrosse and other stories from his past on Adrian Wojnarowski's Vertical Podcast. David McKay of Blazersedge.com has a much better breakdown of all the timestamps than I do, so you can go topic-to-topic. He also gave what sounded like a pretty solid endorsement of Blazers head coach Terry Stotts, saying that he's a better coach than he was 3 and a half years ago and crediting him for a better coaching job this season than he did in his first season. That's as close as we can get to an endorsement, but as long there is no agreement announced between Stotts and the team before next season, the questions will linger.  Halfway through the season the Blazers are on pace to have one more win than that 2012-13 team.
Casey Holdahl of TrailBlazers.com posted some snapshots from Damian Lillard's music video release party in New York City for his new single "Bigger Than Us." The music video is scheduled to premiere during the TNT's MLK Day coverage.
Damian Lillard on the Blazer Banter Podcast
[soundcloud url="https://api.soundcloud.com/tracks/241999300″ params="auto_play=false&hide_related=false&show_comments=true&show_user=true&show_reposts=false&visual=true" width="100%" height="450″ iframe="true" /]
We were able to get Damian's take on the Blazers at midseason. Since he's the best player and their leader, probably best to get a pulse check from him.