The Scouting Report: at Brooklyn Nets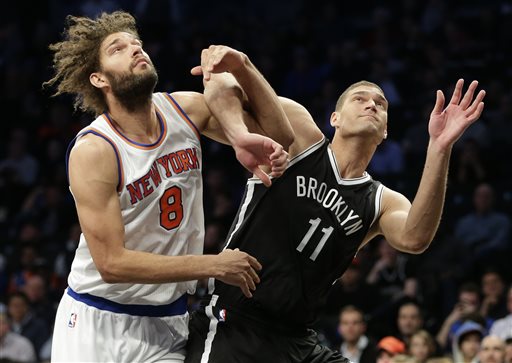 Projected starting line-up: Donald Sloan, Wayne Ellington, Joe Johnson, Thaddeus Young, Brook Lopez
Injuries: Jarret Jack (torn ACL, out for season), Rondae Hollis-Jefferson (fractured ankle, out for at least another six weeks), Chris McCollough (rehabbing ACL injury, timetable unknown)
New coach: Tony Brown
Welcome, everyone, to the Brooklyn Nets 2015-16 season. Just like the last few seasons, you probably haven't paid much attention to the Nets and are only dropping by for one night of the sideshow, as you should.
The team announced less than a week ago on Sunday that they'd fired head coach Lionel Hollins in the start of his second season with the team and that Billy King had stepped down as the team's general manager. The best part? King is staying on with the team in some kind of advisory role and getting paid. I love America.
If you want to listen to more analysis of the situation in Brooklyn, Sean Highkin and I spent quite a bit of time discussing it on this week's Bulls vs. Blazers podcast.
[soundcloud url="https://api.soundcloud.com/tracks/241502241″ params="auto_play=false&hide_related=false&show_comments=true&show_user=true&show_reposts=false&visual=true" width="100%" height="450″ iframe="true" /]
Anyway, other than being a laughing stock and being the reason this year's John Calipari-to-NBA rumors decided pop up, the Nets have had another snooze worthy season. In a vacuum, they didn't do a terrible job trying to improve the team this summer. They used a redundancy at center to acquire Rondae Hollis-Jefferson to improve the athleticism on the wing and he was playing well until he got hurt. Brook Lopez is an offense first player, but that offense is excellent and his defense has improved some. Thad Young's where he makes $13.7 million in his final year will look like a bargain measured up against the cap figures this next summer projects to provide.
The Blazers are playing the second game in a stretch of three where they have a clear-cut advantage at the point guard position. They dominated Utah's guards and now the Nets have been forced to split time between Donald Sloan and Shane Larkin at point guard after Jarrett Jack was lost for the year with a torn ACL.
Young presents match-up issues but perhaps the bigger concern is Lopez. Mason Plumlee is athletic and can stay with him, but Lopez's midrange is good enough to take advantage of Portland's soft coverages.
The Nets suck and their biggest weakness plays into the hands of Portland's two best players. But then again, a loss to the Nets after an impressive home win against a playoff team would be right in line with this team's inconsistent nature.