NCAA pushes back deadline to withdraw from NBA draft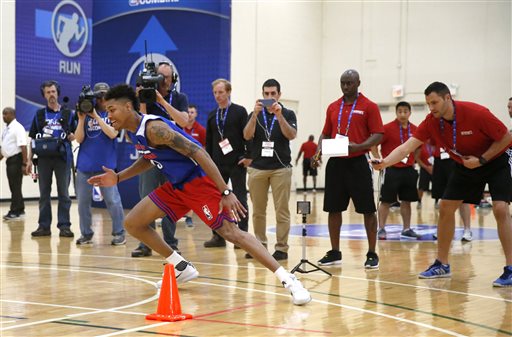 Although the Portland Trail Blazers are in the middle of an attempt to make the Western Conference playoffs, if the season ended today they would be picking in the lottery. However, today's announcement from the NCAA is something that will not only have an impact on the 2016 NBA draft but on drafts to come.
The NCAA have now pushed back the official deadline for when an underclassmen college basketball player can withdraw from the NBA draft to May 25, 10 days after the conclusion of the draft combine in Chicago. The NCAA's website listed the final date to withdraw consideration from the draft while maintaining eligibility as April 10.
DI Council pushes back date by which men's basketball players must remove name from NBA draft to 10 days after conclusion of draft combine.

— NCAA (@NCAA) January 13, 2016
Students can also enter NBA draft multiple times without jeopardizing eligibility & participate in combine & 1 tryout per NBA team per year.

— NCAA (@NCAA) January 13, 2016
This gives the players nearly six weeks more time to decide whether they will want to go into the draft. The old deadline, which was adopted in 2011, was to help "student-athletes make a decision earlier than in the past to focus on either academics or athletics and also give coaches more flexibility with roster-planning and recruiting."
By moving the deadline, the NCAA has given significantly more consideration to the rights of players. The previous deadline forced players to make a decision less than a week after the conclusion of the NCAA tournament and very close to the time players are ending their season. Not only does this gives players more time, the change to allow players to workout one time for every NBA team and participate in the combine without losing eligibility allows those players to have more informed opinions on their NBA stock.
This change seems like a win-win for players, the NBA and college basketball. If a player makes a decision to test the NBA, has a so-so combine and doesn't perform well in workouts, he has an opportunity to go back and get better in college. By being able to come back after testing the waters, it gives NBA-caliber players who may not be ready an opportunity to go back to college and enrich the college game with their talent.
It may also create more interest in the NBA draft combine, which is not as huge an event on the sports calendar as it is for NBA execs, agents and prospective players.
Short of monetary compensation, this is as close to a perfect scenario for college basketball players and potential NBA players as there could be without, you know, not forcing them to go to college at all.