The Scouting Report: Utah Jazz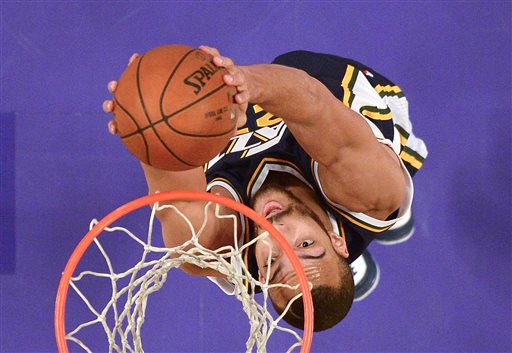 Projected starting line-up: Raul Neto, Rodney Hood, Gordon Hayward, Derrick Favors, Rudy Gobert
Injuries: Dante Exum (out for season), Alec Burks (out indefinitely)
The Utah Jazz survived being without starting center Rudy Gobert for 20 games and managed to maintain their positioning in the Western Conference playoff race. They're currently the holders of the 8th and final playoff spot with a 2.5 game lead over the Blazers. The Jazz came into the season with playoff expectations and so far it looks like they're going to live up to those, even if they don't finish with a winning record.
Gordon Hayward is still the number one priority for the Blazers defense. However, after the last game, they'll need to focus on containing Rodney Hood, who had 18 points on 7-of-16 shooting in a 109-96 win on Dec. 31. His size created problems for Portland's other, smaller two-guards. At 6-8, Hood is going to have a size advantage at that position all night.
Gobert is going to be a deterrent at the rim, but the Blazers cannot shy away from going into the paint. CJ McCollum said at Tuesday's practice that he'll continue to be around the basket. But if Favors is also back, that creates even more problems. But the Blazers scored an impressive win earlier in the season on the road against the Jazz, though Favors was ill that night.
Lillard and McCollum can expose the weaknesses the Jazz have at point guard with Neto and Burke. Whichever one draws the smaller guard will have an advantage all night. Another wrinkle that we could see is Portland going small, especially if Utah is at full strength. Portland can't play the traditional style against the Jazz and expect to win.
A win would secure a tie for the season series for either team. If the Blazers manage to hang around and the Jazz continue to play mediocre ball, this game could have a lot of meaning down the line.
The Jazz will look to slow the game down and the Blazers best chance is to get the Jazz on the run. Portland must start better defensively and not allow the Jazz to get going as they did in their most recent meeting. Containing Hood and Hayward, but also possibly Favors, will be a tough task for the Blazers struggling defense.