The Scouting Report: Oklahoma City Thunder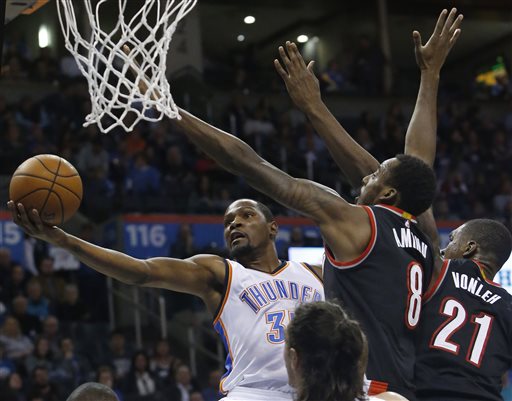 Projected starting line-up: Russell Westbrook, Andre Roberson, Kevin Durant, Serge Ibaka, Steven Adams
The Oklahoma City Thunder have been playing at a high level for the past month or so and are continuing to round into form as a championship contender. The Western Conference this year has what looks to be like the greatest regular season team of all-time and the Spurs as well. It won't be easy, but it's a testament to Kevin Durant and Russell Westbrook that nobody would be shocked if the duo made it to the finals.
The bench for Oklahoma City, while not the best in the league, is the best unit that Durant and Westbrook have ever had at their side. Dion Waiters has been more or less solid for them all year as a bench wing and conductor for second units when Westbrook and Durant sit. He's still not shooting over 40 percent and his 3-point stroke could improve, but his ability to create for himself is something the Thunder bench has lacked in recent years.
And while Waiters and Enes Kanter have been the players who most people recognize as being contributors to this Thunder team, perhaps the most exciting addition has been the youngest one. Rookie point guard Cameron Payne has been a mini-revelation for the Thunder since they called him up from the D-League a few weeks ago.
Touted as a steal by a lot of people in the draft, Payne has played pretty well when he's gotten the chance. Payne is putting up a 19.1 PER off the bench at the point guard position and is a shooting nearly 45 percent from long-range. DJ Augustin has been a nice addition for the Thunder at the back-up point guard spot, but he gives up a lot of size. Payne stands at 6-3 and allows the Thunder to play him without giving up a lot of height.
Westbrook and Durant are the biggest concerns for this team. But Oklahoma City's bench has been much improved and was a major factor in blowing out the Blazers 106-90 back in mid-December. The Blazers surely need a better start, but the bench needs to even things up against the Thunder for them to have any hope.