Blazers guard CJ McCollum listed as inactive Wednesday vs. Clippers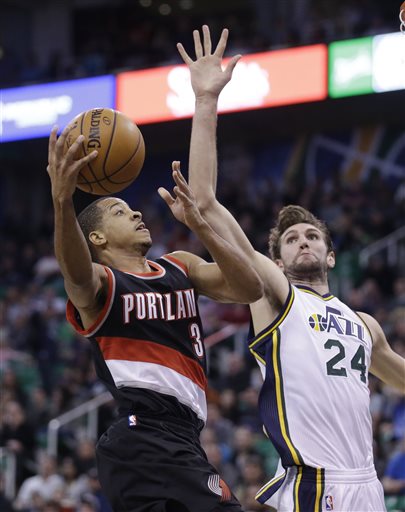 Portland Trail Blazers guard CJ McCollum is on the inactive roster and will not play Wednesday night against the Los Angeles Clippers. McCollum was initially listed on the inactive roster when the rosters were reported about 45 minutes before game time.
This sparked confusion among media and Blazers staffers, causing the Blazers to issue an official update that McCollum was indeed active and starting roughly 20 minutes before tip-off.
But a bizarre scene unfolded on the Moda Center floor when the starting line-ups were announced as the scoreboard switched back to showing Crabbe in the starting line-up. McCollum was in full warm-up gear on the bench while head coach Terry Stotts spoke to him moments before Crabbe was officially announced. According to the Los Angeles Clippers broadcast, the Blazers officially listed McCollum as inactive and were unable to change it. According to Ben Bolch of the Los Angeles Times, the Clippers weren't exactly helpful with facilitating the correction.
So, it appears that we've learned that the system the NBA uses for submitting does have some rules. While in the NBA rulebook it states that playing an inactive player would result in a technical foul, the actual rule in practice is a technical foul for the team and an EJECTION for the inactive player. This happened before in Charlotte with Jeff McInnis, which was brought to our attention by ESPN guru Kevin Pelton.
Update: Brought to our attention by a twitter follower, further down the rule book it does clarify that an inactive player attempting to play would result in an ejection.
McCollum had missed Portland's Dec. 21 game against the Atlanta Hawks with bilateral ankle sprains. While it appears that him being inactive was nothing but a clerical error, it was evidently too late to correct it. McCollum has been forced to watch the game from the bench in full gear while Luis Montero, listed as active, is in street clothes.
We'll hopefully find out more about what happened and how it happened after the game.