The Scouting Report: Memphis Grizzlies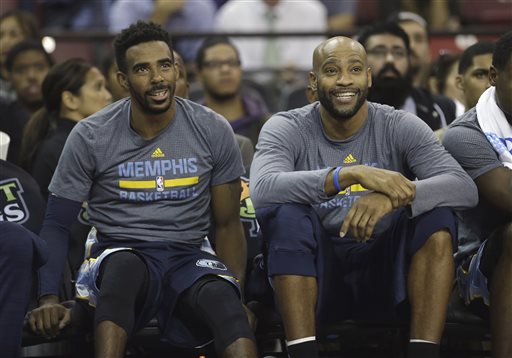 Projected starting line-up: Mike Conley, Courtney Lee, Matt Barnes, Jeff Green, Marc Gasol
Injuries: Mike Conley (back) questionable
Things have changed in the land of grit and grind. Over the last few seasons, the Grizzlies found strength in their identity as the last of a dying breed but now it appears that the inevitable caught up on their former identity.
It's still the case that the two biggest problems for opponents are Mike Conley and Marc Gasol but Zach Randolph and, to a lesser extent, Tony Allen, gave the Grizzlies their identity. Now both will presumably come off the bench now that Matt Barnes has served his two-game suspension. The Grizzlies are trying to adapt to the way the league is going but even then, they are struggling to keep up.
At 18-17, the Grizzlies are in the 6th seed. And while they're not going to be a threat to go deep in the playoffs, I don't think anyone wants to play these guys in a series. But who knows anymore. They just aren't the same. Their defense doesn't shut you down or scare you in the way that it has in the past, slipping back to average. Offensively, they've lost all the progress they made the past two seasons with improved ball movement and cohesion on that end.
The Conley-Gasol pick and roll will still be a problem for the Blazers defensively. But with less Randolph, the Blazers have to stretch their defense a little bit more.
Mario Chalmers killed the Blazers off the bench in the last meeting between these two teams, which happened just over a week after their first meeting. The trade happened between those games and it was during that time the Grizzlies found some success. But that was due in large part to Marc Gasol finding his game again.
The weird thing is, statistically, their new starting line-up has actually been worse from a net-rating standpoint than the starting line-up with Randolph and Allen. But the line-up does have a much higher true shooting percentage. In years' past, teams not guarding Allen has been their undoing and it appears that they're determined to find an identity that can't be squeezed by the same strategy.
Portland's net-rating is much better than Memphis' and even though their record is much worse, they've looked like the better team over the course of the last two meetings. And the Blazers just might get Damian Lillard back tonight, which would certainly help matters.